Tue., Jan. 31, 2012
Jury still out in road rage murder case
Jurors today continue to deliberate the fate of of a North Idaho man charged with murder for running over a woman during a road rage encounter with her husband and daughters six years ago.
The jury of 12 Kootenai County residents asked 1st District Judge John Luster the difference between 'deliberate' and 'intentional' in a question submitted just before noon today.
Luster provided them with an additional instruction defining intentional as 'if done on purpose' and 'deliberate' as 'done on reflection.'
"It's understandable that the jury is struggling with that distinction between those two terms," Luster said.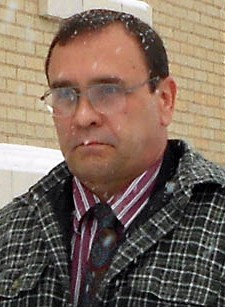 The language could be crucial to the verdict as jurors decide whether to convict or acquire Jonathan Wade Ellington, 51, (pictured) of second-degree murder for the Jan. 1, 2006, death of Vonnette Larsen.
Jurors also have alternative charges of manslaughter and vehicular manslaughter.
Prosecutors Barry McHugh and Art Verharen told the judge they believe today's additional instruction places an unfair burden on them to prove premeditation, which is only required for first-degree murder.
Luster disagreed.
"I don't believe this instruction places any greater burden on the state," he said.
Court officials ordered lunch for the jury, which is in it's third day of deliberations. They began Friday afternoon after closing arguments.
Prosecutors say Ellington chose to turn his Bronco into the wrong lane and accelerate toward Larsen instead of staying in his lane and driving away from the scene at Scarcello Road, north of Coeur d'Alene.
But Ellington's lawyers say he was fleeing gunfire from Vonnette Larsen's husband, Joel Larsen, when the Bronco ran her over.
It's Ellington's second trial. He was serving a 25-year sentence for seocnd-dgree murdre when the Idaho Supreme Court reversed his convction and ruled an Idaho State Police corporal lied on the witness stand.
Read more from closing arguments here.
---
---