Tue., June 12, 2012
Report details Gibson's criminal history
When a man now charged in the 1992 shooting death of a Spokane Valley businessman left prison in the last few years, his brother attended a community meeting defending him.
Patrick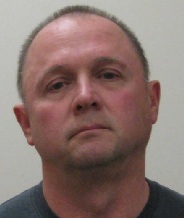 Kevin Gibson's neighbors had been notified of his status as a level 3 sex offender, and Michael Gibson was trying to explain his past crimes and justify his presence in the community.
Michael Gibson told sheriff's detectives he specifically asked his brother if he'd ever killed someone "and Patrick said he had not," according to a police report.
"Patrick did tell Michael that he was the mastermind of everything he had done and had always acted alone," the report says. Michael told detectives that his brother liked to flash his money around and may have been attracted to the excitement of robberies.
Patrick Gibson, 60, (pictured) has pleaded not guilty to first-degree murder. His trial was temporarily halted Monday because of the last-minute discovery by prosecutors that "America's Most Wanted" host John Walsh and an actor had handled the killer's hat after it was left at the scene.
Detectives say Michael was emotional in May 2011 when he learned his brother had been arrested for the nearly 20-year-old homicide.
"His first response was that he would never see Patrick again and that he had placed his own reputation on the line to help Patrick," according to the report.
Michael said he went to bat for Patrick with concerned neighbors and said he told him if he messed up again, he'd be the first to turn him in, police wrote. Gibson has spent most of adult life in prison.
In August 1978, he fired shots at a Utah highway patrolmen who tried to stop him for a traffic violation as he drove with his wife and her two children.
In November, he and another inmate escaped from jail, stole a car and traveled to Nevada, where he and an accomplice robbed and raped two convenience store clerks. Gibson was arrested three days later near Vancouver B.C.
He was sentenced to 20 years in prison in May 1979 but paroled in March 1992, about seven months before Cole was murdered.
Police say Gibson worked at a phone company in Stanwood, Wash., as a voice and data man but traveled frequently without his probation officer's permission. He's believed to have committed robberies in Oregon that same year.
The robberies are similar to gunpoint attacks at a clothing store in Coeur d'Alene and Cole's murder, both which occurred on Nov. 7, 1992.
While prosecutors believe Gibson himself got away with murder for nearly 20 years, Gibson says he's partly responsible for helping convict a major drug lord who nearly got away with the murder of five people in Iowa in 1993, including two girls, ages 6 and 10.
The situation led Gibson to become a member of the federal government's witness protection program and resulted in death sentences for Dustin Lee Honken, 44, (pictured in 2005 by the Associated Press) and Honken's girlfriend, Angela Johnson, 48, though Johnson's sentence was overturned on appeal because of ineffective counsel.
Gibson told Spokane County sheriff's Detective Michael Drapaeu he shared a prison cell with Honken when Honken bragged about killing government witnesses and executing a family that included children.
"I decided to do the right thing," Gibson told Drapaeu, according to court records. "I just tried to make amends for my past wrongs."
It's unclear how exactly Gibson assisted in the case, but media reports say authorities placed an experienced jailhouse informant, Robert McNees, in a cell with Johnson who was able to obtain a map of of the grave sites.
A jury recommended Honken be sentenced to death after a lengthy trial in Sioux City, Iowa, in 2004. News reports at the time say the bodies of his five victims, which included two girls, ages 6 and 10, were found in late 2000 after Johnson drew a map and gave it a jailhouse informant.
Honken, who Iowa news reports say introduced methamphetamine to the state in the early 1990s, already was serving a 27-year sentence for drug trafficking when the bodies were discovered. Gibson was serving a 12-year sentence for bank robbery.
Gibson told Drapeau he would need to be isolated at the jail because he is a protected witness. Drapeau said he informed the jail of that, according to court documents.
---
---