Wed., June 20, 2012
Kevin Ellison to stay in jail without bail
A pro football player who claims God told him to start a fire at his apartment complex in Liberty Lake will remain in jail amid concerns about his mental health.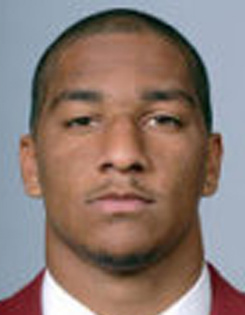 Kevin Marcus Ellison, 25, who was dismissed from the Spokane Shock arena football team after his arrest June 14, repeatedly claimed to be Jesus Christ, including to an elderly woman who was at the hospital when Ellison was treated for smoke inhalation, said Assistant U.S. Attorney Aine Ahmed.
"He may have some mental issues," Ahmed said.
Ellison also told Shock general manager Ryan Rigmaiden "that he was Jesus Christ, and that he was part of the rapture, and that God told him to start the fire," Ahmed said. "He did not believe it (the fire) was going to harm him because God told him he'd protect him."
Ellison told Rigmaiden he started the fire with a marijuana blunt.
Ellison, a former standout defense back for the University of Southern California Trojans, pleaded not guilty Tuesday to a grand jury indictment charging him with malicious use of fire to damage commercial property. He faces five to 20 years in prison if convicted.
His public defender, Kim Deater, asked for Ellison to be allowed to leave jail and live with his mother and brother in Los Angeles, though she said they wants him to undergo mental health treatment.
"They think that might be an issue," Deater said.
Deater described Ellison as "a good friend, a good teammate, a good son, a good player."
She said his success in football shows he can work toward a goal with a large group of people.
"That takes cooperation, that takes a bond, and that takes character," Deater said.
She also said Ellison did not tell the elderly woman at the hospital that he was Jesus - he simply grasped her hand and prayed with her.
But Imbrogno ordered Ellison to stay in the Spokane County Jail after Ahmed described a series of bizarre behavior that included statements from a Shock dancer who said she fears Ellison.
"She became afraid of Mr. Ellison after he texted her specifically that he was Jesus Christ," Ahmed said.
The woman, who was not identified, also said Ellison asked her to marry him just moments after meeting her.
He said Ellison's roommate, Chris Tucker, told investigators that Ellison told him he'd been Baptized just a few days before the fire. Tucker also said Ellison had offered him Vicodin to ease his pain while at an away game in Chicago recently.
It was Tucker who first realized there was a fire in the apartment he shared with Ellison.
The defensive lineman for the Shock told investigators he first thought the smoke was from burning food. He even took the batteries out of the smoke detector in his bedroom before he realized the fire was coming from Ellison's room, Ahmed said. He alerted Ellison to the fire, but Ellison told him "I'm good." and didn't leave.
Ellison escaped the fire by jumping from a window of the third-floor apartment. The fire caused about $100,000 in damage. Ahmed emphasized that children live next door to Ellison's apartment.
Ellison was drafted in the sixth round by the San Diego Chargers in 2009. He was released by the team following a May 2010 arrest in San Diego on a controlled-substance charge after police reportedly found 100 Vicodin tablets in his car without a prescription. The charges was dropped.
Ellison joined the Seattle Seahawks but was released shortly before the 2010 season opener.
---
---