Tue., March 6, 2012
Suspect named in shooting of young girl
A suspect has been identified in a shooting that injured a 6-year-old girl and a 23-year-old man in east central Spokane.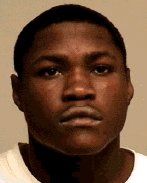 Abubakar "Abu" Samura, 21, is wanted on two first-degree assault charges for the shooting at a home Sunday in the 1800 block of East Fourth Avenue.
Samura's home address is not known, but he's believed to frequent the area of East 9th Avenue and South Perry Street, Spokane police said today.
Officers responded to reports of a man shooting another man in a front yard near Liberty Park about 9 p.m. Sunday.
The man who was shot ran to a neighbor's house for help before collapsing, police said. Police believed the girl was an unintended victim of the shooting. Both victims are expected to survive.
Police say the shooting is gang related. Anyone with information on Samura's location is asked to call the gang enforcement team at (509) 625-GANG (4264). He's described as 5-foot-4 and 160 pounds.
---
---