Thu., March 8, 2012
Suspect still sought in girl's shooting
A man accused of shooting a young girl Sunday night confronted a group with a gun after hearing gang-related insults, Spokane police allege.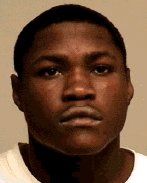 Abubakar "Abu" Samura, 21, is wanted on two counts of first-degree assault. A $500,000 warrant was issued Tuesday.
Police say several bullets from Samura's gun struck a home in the 1800 block of East 4th Avenue, including one that lodged inside the foot of a 6-year-old girl inside the home.
Read the rest of my story here.
---
---