Fri., March 16, 2012
NJ man to pay millions in lottery lawsuit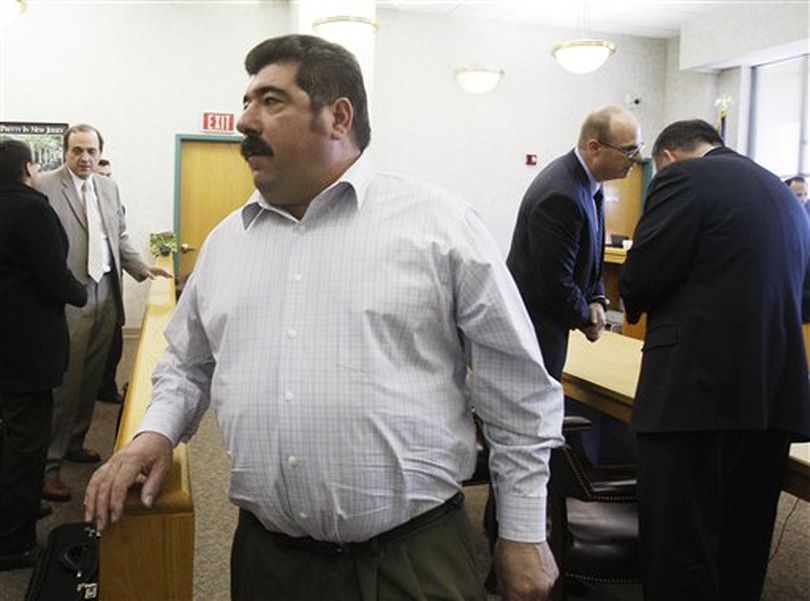 Top: Americo Lopes exits the courtroom on Wednesday in Elizabeth, N.J. A jury found that Lopes had cheated five co-workers out of their share of a $38.5 million lottery jackpot. Below: Plantiffs Carlos Fernandes, right, Candido Silva Jr. shake hands. (AP Photos/The Star-Ledger, Frances Micklow, Pool)
ELIZABETH, N.J. (AP) — Five construction workers in New Jersey, vindicated by a jury, must wait before learning exactly how much they'll share of a $38.5 million Mega Millions jackpot that a co-worker who was part of their lottery pool claimed as his own in 2009.
A jury in state Superior Court in Elizabeth reached a unanimous verdict on Wednesday that Americo Lopes had cheated the men out of their share of the prize.
The panel re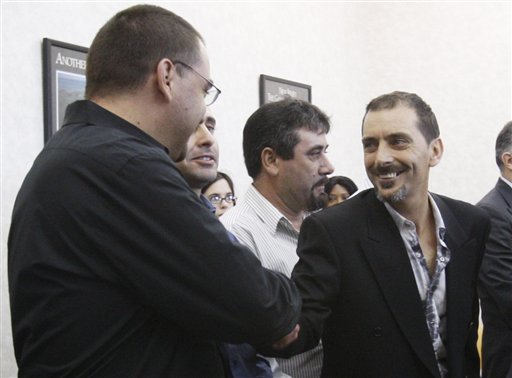 jected the 52-year-old's claims that he had won the jackpot on a personal ticket and not with the ticket that he had bought as part of the lottery pool.
Attorney Rubin Sinins, who represented the five men, said each was awarded $4 million because the jackpot was worth $24 million after Lopes chose the cash option.
However attorney Eric Kahn, who also represented the former colleagues, told The New York Times that details on how much each man would receive and how much each might owe in taxes needed to be worked out.
The men started playing the lottery together in 2007 while they worked for Berto Construction Inc. in Elizabeth.
When Lopes hit the Mega Millions jackpot in November 2009, he told his boss he wouldn't be returning because he needed foot surgery, which he never received. He also filed for unemployment benefits after claiming the $17,433,966 prize after taxes.
His wife, Margarida, testified that her husband finally called one of the men in the group in March 2010 and told him about winning.
"Our clients all feel vindicated" by the verdict, Sinins said. "This has been their position all along; they've been challenged in their position and the jury saw it their way. They are very gratified."
Lopes left court with his wife shortly after the verdict. Speaking in Portuguese, Lopes said he had been robbed, The Star-Ledger of Newark reported.
His attorney, Michael Mezzacca, was disappointed.
"The fact is Mr. Lopes won the lottery by himself with his own money and numbers that he picked," Mezzacca told the newspaper.
When the verdict was announced, the five plaintiffs embraced. They told The Star-Ledger they'll continue to play the lottery as a group, but would copy the ticket.
"I have a lot to do," plaintiff Carlos Fernandez said. "My granddaughter was born yesterday. I have to buy her a present she'll remember."
---
---