Tue., March 20, 2012
Reward targets suspect in girl's shooting
Crime Stoppers is now offering a reward for tips that lead to the arrest of a man accused of shooting a 6-year-old girl earlier this month.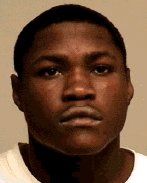 Abubakar "Abu" Samura, 21, is wanted on two first-degree assault charges for the shooting at a home March 4 in the 1800 block of East Fourth Avenue.
Spokane police say victim Matthew Woods was at the home with a friend about 8 p.m. when he heard someone from a home nearby in the 300 block of South Pittsburg Street yell what he understood to be a derogatory statement about their gang.
The men responded and one shot Woods in the leg, then fired several more times as he ran to a nearby home.
Three witnesses granted anonymity by police identified Samura as the gunman.
Samura, 5-foot-5 and 160 pounds, last gave an address in the 1400 block of East Hartson Avenue in Spokane.
Anyone with information on his current location is asked to call Crime Stoppers at 1-800-222-TIPS or submit tips online. Tipsters do not have to leave their name to collect a reward but should leave a code name or number.
---
---