Wed., May 2, 2012
Graffiti suspect caught blue-handed
A man suspected of spray panting graffiti on more than 30 locations in d
owntown Spokane was arrested Tuesday.
Brad Ruble, 28, was booked into jail for malicious mischief after Neighborhood Resource Officer Tim Ottmar arrested him downtown, according to the Spokane Police Department.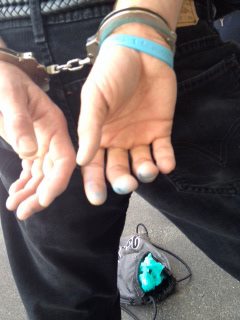 Ruble's fingers were blue when police contacted him - the same color of the paint used to put hearts on the locations.
Another suspected graffiti tagger, Lance Perkins, 25, was arrested in March for allegedly spray painting '57' on numerous locations.
57 refers to Perkins' initials 'LP' on a cellphone keypad, according to court documents.
---
---