Thu., May 10, 2012
Man arrested for grocery store robberies
A man suspected of robbing four grocery stores in Spokane County was arrested Wednesday.
Daniel W. Drake, 38, reportedly admitted to robbing three Safeway stores and one Rosauers store in Spokane and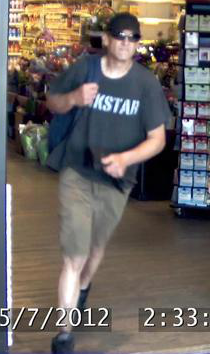 Spokane Valley recently, according to the Spokane County Sheriff's Office.
Drake is allegedly pictured fleeing the Safeway store on Wellesley Avenue after a robbery Monday.
Detectives received tips that helped them identify Drake within hours of the Sheriff's Office releasing that surveillance photo and others Tuesday.
Court documents show Drake's sister, father and mother told police they were positive the man pictured was Drake.
The Spokane police Patrol Anti-Crime Team assisted detectives from both agencies in locating Drake. They found him at a motel after nine hours of surveillance, then arrested him in the area of Argonne Road and Montgomery Avenue without incident.
Drake is accused of robbing Safeway at 14020 E. Sprague Ave., in Spokane Valley May 2, as well as the Shadle Park Safeway, 2507 W. Wellesley Ave., May 7.
The other robberies occurred April 29 at Safeway at 933 E. Mission Ave. in Spokane and the Rosaurers at 2610 E. 29th Ave. on May 7 about 2:30 p.m., just two hours before the Shadle Park robbery. No money was actually stolen in the Rosaurers case.
Drake is to appear in Spokane County Superior Court via video from the jail, where he's booked on four counts of second-degree robbery.
"The Sheriff's Office Major Crimes Unit has recently assigned a detective to investigate all robbery reports that are taken," sheriff's spokesman Deputy Craig Chamberlin said in a news release. "The ability to assign a lead detective to these crimes has been, and will continue to be, imperative in solving these types of crimes and ensuring the safety of the citizens of Spokane County."
---
---