Tue., May 15, 2012
Level 3 sex offender moves to Valley
A sex offender recently released from prison for the unlawful imprisonment and robbery of a 16-year-old is now living in Spokane Valley.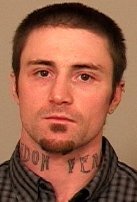 Joseph R. Wheeler, 34, is a level 3 sex offender, which is the classification considered most likely to reoffend.
He served about eight years in prison after being convicted of first-degree robbery, second-degree assault, unlawful imprisonment, harassment in April 2004, according to court records. He was credited for about 1 1/2 years spent in the county jail before he was convicted. Wheeler's victim was a stranger.
Wheeler is being supervised by the Washington Department of Corrections but is not wanted by authorities. However, the Spokane County Sheriff's Office wants people to be aware of his presence.
Wheeler is living in the 1300 block of South Robie Road, which is a few blocks from Opportunity Elementary School.
The Spokane County Sex Offender Registry is available here. Anyone with questions about the sex offender community awareness program is asked to call (509) 477-6609 or email RSOUnit@spokanesheriff.org.
---
---