Tue., May 15, 2012
Suspect arraigned in girl's shooting
A man accused of a shooting in which a 6-year-old girl was injured pleaded not guilty today in Spokane County Superior Court.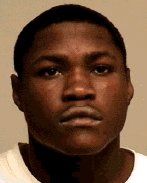 Abubakar Samura, 21, remains in jail on $500,000 bond and an immigration hold after his arraignment today before Superior Court Judge Annette Plese.
Samura turned himself in on two counts of first-degree assault April 6 for the March 4 shooting near a home in the 1800 block of East Fourth Avenue.
Matthew W. Woods, 23, was shot in the legs and back, and the girl was shot in a foot while she was inside the home. Spokane police say Woods was at the home with a friend when he heard someone from a home nearby in the 300 block of South Pittsburg Street yell what he understood to be a derogatory statement about their gang.
A confrontation ensued, and Samura shot Woods in the leg, then fired several more times as Woods ran to a nearby home, police say. Three witnesses granted anonymity by police identified Samura as the gunman.
The case originally was charged in Spokane County District Court, then transferred to Superior Court April 30. Samura is represented by Chris Phelps.
---
---