Tue., May 22, 2012
Police seek help IDing mystery woman
A woman found lost and confused in Oregon last week took a bus there from Spokane, and authorities are asking for help identifying her.
The woman told police her name is Katie Walker and that she hitchhiked from Maine when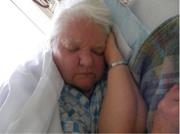 she was found walking near Albany, Ore., near NE Knox Butte Road and Harber Drive on May 15, according to the Linn County Sheriff's Office.
The woman had no identification and could not provide her date of birth. Police say she is not cooperative "and is not able to assist us in finding out who she is or who her family might be," according to a news release.
The woman is described as 50 to 70 years old, with blue eyes and shoulder-length white hair. She is 5-foot-2 and 153 pounds. She has a surgery scar on the bottom of her foot and a scar on the base of her neck approximately 10 centimeters long.
Authorities say the woman boarded a bus in Spokane on May 13 at 11:35 a.m. and arrived in Portland that day at 6:10 p.m. She was wearing a purple knee-length rain jacket, a black skirt with floral print and brown shoes. She is believed to also have been carrying a black market tote/bag. More photos are available here.
Anyone with information on the woman's identity is asked to call the Linn County Sheriff's Office detective division at (541) 967-3950.
---
---