Sun., May 27, 2012
Sex offender arrested in home invasion
A sex offender suspected in a violent gunpoint home-invasion robbery was arrested today.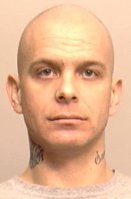 Joshua Clint Epperson, 32, was booked into jail on felony charges related to an early-morning attack last Tuesday in the 9600 block of North Alpine Court in the Indian Trail area.
The Spokane police Patrol Anti-Crime Team located Epperson in the 4200 block of North Atlantic Street, Officer Brian Eckersley said in a news release.
Epperson was arrested just three weeks ago for a burglary in the Country Homes area in north Spokane County and is to be arraigned Wednesday on residential burglary, first-degree trafficking in stolen property and resisting arrest charges.
He was out of jail awaiting that arraignment when police allege he partook in the robbery, which involved the victims being bound with zip ties and one being pistol whipped.
Suspects Nathan W. Day, 21, and Nathan T. McDaniels, 28, were arrested Wednesday and remain in jail.
Epperson faces charges of first-degree burglary, first-degree robbery, first-degree kidnapping, possession of a stolen firearm, two counts of second-degree assault, two counts of unlawful imprisonment and two counts of possession of a controlled substance, Eckersley said. Prosecutors filed charges on Friday.
Epperson is a level 3 sex offender, which is the classification considered most likely to reoffend. He was convicted of third-degree rape of a child in 2003. He also has a conviction for indecent liberties.
---
---