Wed., July 20, 2016
Why isn't Sheriff Ozzie Knezovich on a panel interviewing Spokane police chief finalists?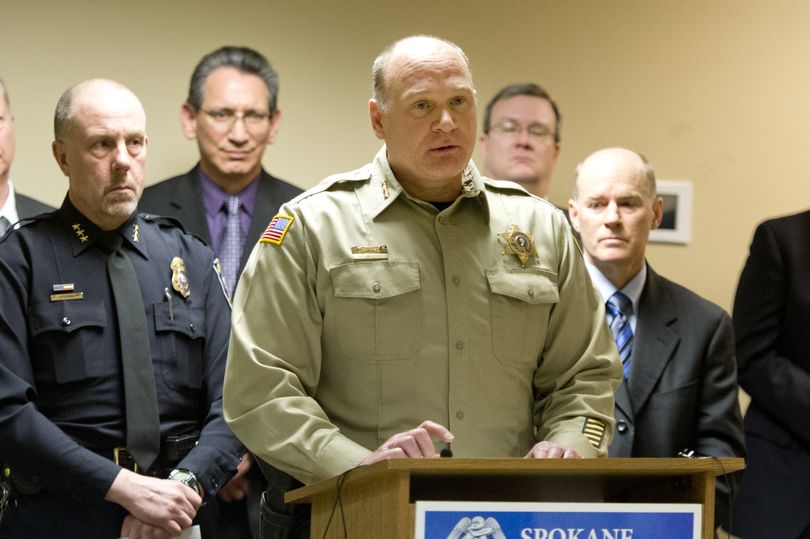 Mayor David Condon's four advisory panels interviewing the two remaining police chief finalists are missing the most prominent law enforcement official in Spokane County -- the three-term sheriff, Ozzie Knezovich.
Why?
Knezovich assumes he wasn't one of the more-than 40 people invited to participate in ranking finalists because the last time Condon selected a chief, Knezovich disagreed with his pick.
"That would probably be because they didn't like my opinion the last time," Knezovich said when asked why he wasn't asked to serve on a panel.
In 2012, Knezovich was named by Condon to serve on a panel of law enforcement officials who unanimously recommended that Condon not hire either finalist for chief. Condon disagreed and hired Frank Straub, who was forced to resign by Condon last year.
City spokesman Brian Coddington said Knezovich's participation in the 2012 selection process had nothing to do with the city's decision not to invite him to be on a panel this time.
Coddington noted that Spokane Valley Police Chief Mark Werner, who is Knezovich's employee as a member of the sheriff's office, is on one of the interview panels. Not all prominent law enforcement officials could participate, he said.
"We tried to get as much broad representation as possible," he said.
Knezovich said based on his experience with the last process, he wouldn't have participated even if he had been asked.
"We determined that none of the candidates fit what the city needed," Knezovich said. "I felt the city just blew that panel off and went with the direction they were going to go anyway."
Here are the members of the four panels that will make recommendations on the two finalists to Condon.
Community Policing
David Browneagle, vice chairman, Spokane Tribe of Indians
Joan Butler, chair, Police Advisory Committee
Judi Carl, retired captain, Spokane Police Department
Shon Davis, bishop
Rick Dobrow, retired interim chief, Spokane Police Department
Lori Kinnear, member, Spokane City Council
Dave McCabe, president, Spokane Police Lieutenants and Captains Association
Tracie Meidl, captain, Spokane Police Department
Lonnie Mitchell, reverend
Mark Sterk, Director of Safety and Security, Spokane Public Schools
Leadership and Professional Accountability
Kathy Armstrong, program professional, Spokane Police Department
Rick Eichstaedt, executive director, Center for Justice
Isaiah Flick, member, Chase Youth Commission
Toni Lodge, executive director, The NATIVE Project
Laura McAloon, attorney
Brian Newberry, executive director, Leadership Spokane
Eric Olsen, major, Spokane Police Department
Tim Ottmar, vice president, Spokane Police Guild
Brian Schaeffer, assistant chief, Spokane Fire Department
Dan Sigler, Spokane regional director, Pioneer Human Services
Amber Waldref, Spokane City Council member
Community Engagement
Francis Adewale, assistant public defender, City Public Defender's Office
Jim Andrews, president, American Ironworks & Erectors
Breean Beggs, Spokane City Council member
Latisha Hill, senior vice president, Avista Development
Kevin King, major, Spokane Police Department
Bart Logue, interim police ombudsman
Craig Meidl, assistant police chief, Spokane Police Department
Gloria Ochoa-Bruck, multi-cultural affairs director, City of Spokane
Bonnie Quinn Clausen, principal, QUINN
Sandy Williams, member, Washington State Commission on African American Affairs
Business Operations and Finance
Lynnelle Caudill, managing director, Davenport Hotel Collection
Gerry Gemmill, CEO, Spokane County
John Lemus, chair, Spokane Human Rights Commission
Justin Lundgren, major, Spokane Police Department
Sarah Lynds, deputy director of Strategic Initiatives, Spokane Police Department
Ladd Smith, teacher, Spokane Public Schools
Ben Stuckart, Spokane City Council president
Phillip Tyler, president, NAACP
Nancy Vorhees, COO, Inland Northwest Health Services
Mark Werner, chief, Spokane Valley Police Department
---
---