The adventures of Spokane Man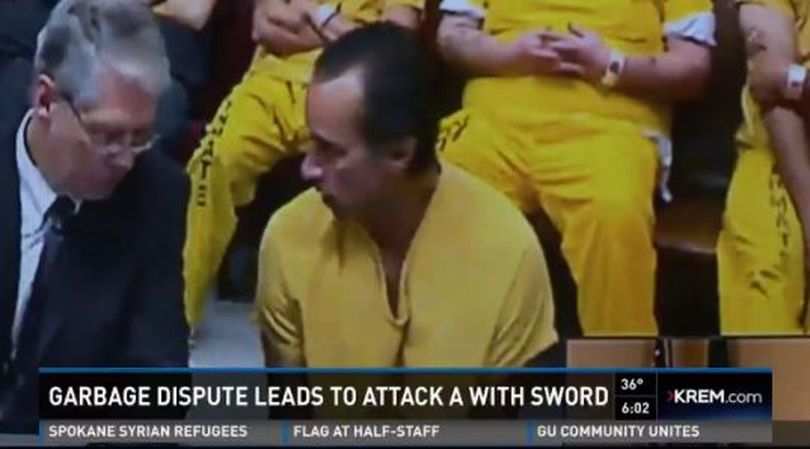 If you've spent much time on the Internet, you've probably heard of Florida Man. Often accused of poorly-thought out crimes involving alligators, bath salts, pools and public nudity, Florida Man is a regular fixture in the world of bizarre news.
In a roundup of the best Florida Man incidents from last year, Esquire describes the high bar required to achieve Florida Man's status:
An authentic Florida Man incident should involve some, if not all, of the following: boneheaded criminal schemes, an outrageous disregard for common decency, unconventional encounters with police, nunchucks, public and/or outlandish sex acts, alligators and/or other reptiles, large-scale robberies of undesirable goods, Tasers, bizarre supernatural beliefs, and of course, rampant drug use. Almost any crime committed on the World's Craziest Peninsula™ has at least one of these features, but a true Florida Man combines a number of them to create an act of delinquency that simply could not have occurred anywhere else.
I asked a certain former candidate for police ombudsman about all of this, since the man spent more than 20 years working law enforcement in the Sunshine State.
"Is Florida crime really as absurd as the Florida Man headlines would have me believe?" I asked after a public forum. He assured me that it was, probably because the year-round warm temperatures give people far more outside time to plot harebrained criminal schemes.
Well, then.
It's warming up here in Spokane, which might account for the larger-than-usual number of odd crimes that seem to be finding their way onto the court docket of late. At any rate, it's had me thinking that we're overdue for a tribute to our own local hero, Spokane Man.
He might not be Florida Man, but Spokane Man certainly has his fair share of strange encounters with neighbors and law enforcement. I'd invite readers to submit their own criteria, but I think true Spokane Man incidents generally involved one or more of the following:
Creative use of strange weapons
Drugs, most often heroin or meth
Petty arguments, often over very small amounts of money
Robberies displaying little or no advance planning and/or common sense
People who have difficulty solving problems without resorting to death threats or fighting
In the 18 months I've been at the Spokesman-Review, here are a few of my favorite Spokane Man adventures. (I should note that Spokane Man encompasses the entire county, because we'd miss a few good ones if we kept it in the city limits.)
Oct. 22, 2014: Spokane man arrested for allegedly threatening animal control officer trying to return his dog
Nov. 17, 2014: Road rage incident leads to two Spokane men wrestling for control of metal mace
Dec. 2, 2014: Spokane man shoots neighbor after both try to break up the same argument
Dec. 22, 2014: Cheney man (and woman) nabbed in robbery after returning to store to buy cigarettes with stolen cash
Feb. 3, 2016: Spokane men accused of threatening to kill off-duty cop who wouldn't give them 50 cents
Aug. 13, 2015: Spokane man accused of videotaping himself having sex with animals
Nov. 16, 2015: Spokane man accused of attacking neighbor with Klingon sword over garbage dispute
Jan. 4, 2016: Airway Heights man arrested after police follow snowy footprints from scene of burglary
April 14, 2016: Spokane man accused of bear macing neighbor who was taking out trash
April 27, 2016: Spokane man arrested after allegedly sending neighbor 382 texts
I've probably missed many worthy incidents here. Feel free to point them out in the comments.
---
---