No, a Spokane woman did not have her hijab ripped off after the election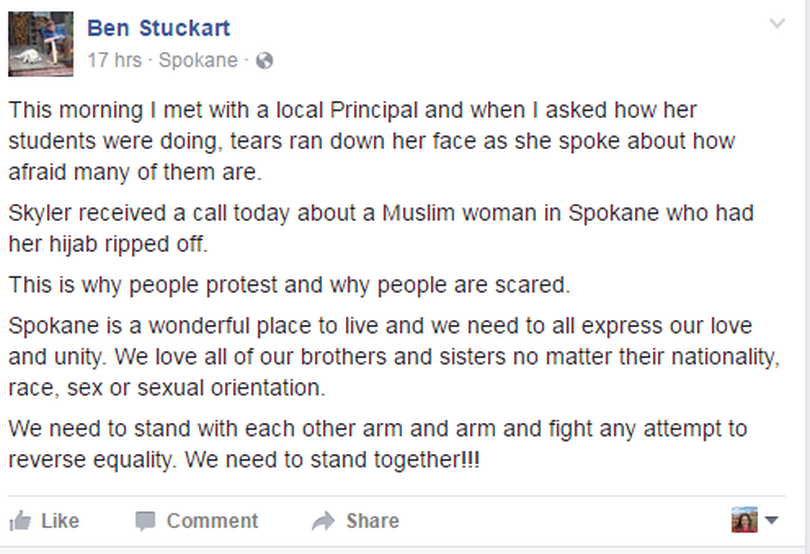 In the days following Donald Trump's election victory, hate crimes have been reported around the country.
A WSU student found his car vandalized Thursday morning with homophobic slurs. Graffiti saying "#Go back to Africa", "whites only" and "Make America Great Again" was found in a Minnesota high school.
A widely-shared Facebook post by Spokane City Council President Ben Stuckart Thursday about the fear many people feel following the election suggested a Spokane Muslim woman had her hijab ripped off this week. As it turns out, that's not true.
Stuckart got the information from Skyler Oberst, legislative aide to Councilwoman Karen Stratton and chair of the Spokane Interfaith Council. In his post, he wrote, "Skyler received a call today about a Muslim woman in Spokane who had her hijab ripped off."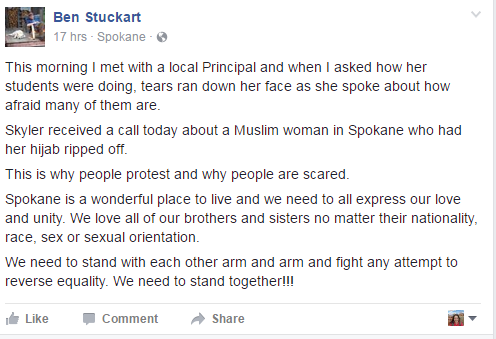 Oberst said Friday he heard the information from Muslim community members who were concerned about possible violence against them. After I called him asking for more information on the incident, he said he'd look into it.
He called back an hour later, explaining there had been a miscommunication. A Somali immigrant family in Spokane had been talking about an attack on a hijab-wearing woman in another city. They were sharing it as an example of the sort of incident they fear.
The location of the incident got lost in translation as the story spread, he said.
"I feel kind of embarrassed," Oberst said. "The last thing I want to be doing is spreading things that are untrue or mistruths."
Stuckart edited his post as soon as Oberst and I told him the incident happened elsewhere. The post had 52 shares, 51 comments and 375 reactions.
"I agree we need to be accurate. Skyler told me something and I reported it on Facebook," he said.
But he said the larger truth that many people are afraid remains. Stuckart said a white woman who works at City Hall told him a man yelled, 'We're going to build a wall to keep you people out of here' as she was leaving work Thursday night. She wasn't sure if the comment was directed at her or someone else in the area, he said.
"The bigger message needs to be Spokane's better than that," Stuckart said.
---
---