Mon., Aug. 16, 2010
Spokane City Council meeting during anthrax scare may have violated state law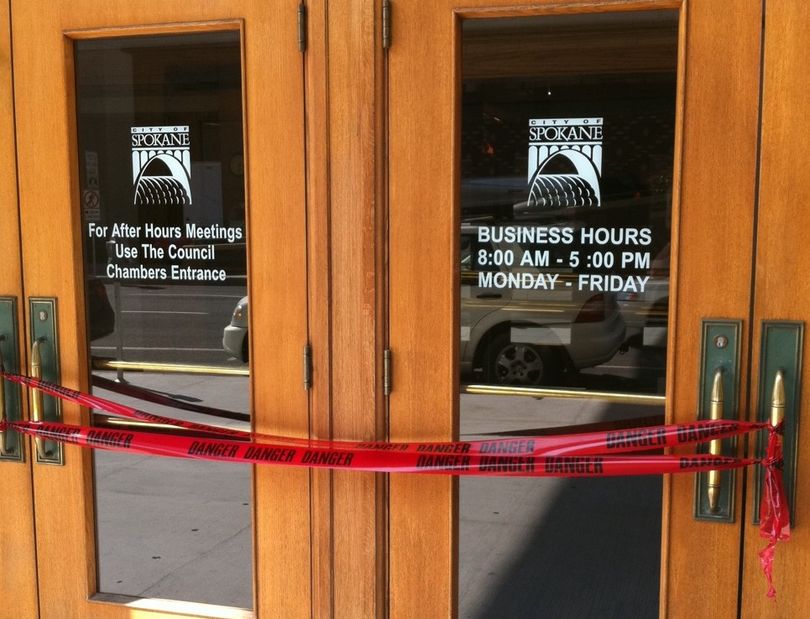 The Spokane City Council on Monday likely violated state law by meeting during an anthrax scare which closed City Hall to the public.
Firefighters and police were called to City Hall just prior to the council meeting's scheduled 3:30 p.m. start after an employee found white powder in a package of office supplies. City spokeswoman Marlene Feist sent a news release at 3:25 p.m. that said the session would go on even though the public was no longer allowed to enter City Hall.
The building reopened about an hour later, after firefighters determined the power to be corn starch. The council meeting ended about the same time.
State law stipulates that City Council meetings be open to the public.
Feist noted that there was no public testimony scheduled and that the meeting was carried live on the city's cable station.
Greg Overstreet, former open government ombudsman in the state attorney general's office, said state law allows members of the public to be barred from a council meeting only for an executive session or for unruly behavior. Monday's meeting wasn't an executive session, during which council members could meet privately to discuss certain matters like the purchase of real estate. Even if no votes are held, meetings must be open, he said.
"It would be a terrible precedent if local governments could lock the doors and tell people to just watch it on TV," said Overstreet, a private attorney who focuses on public access issues.
Feist said the powder was discovered when a package of office supplies was opened in the city's planning department on the third floor. Employees who were in the area were told not to leave. Among those who had to stay put until firefighters gave the all clear: Mayor Mary Verner and City Administrator Ted Danek, Feist said.
Workers in other areas were told to keep working.
Meanwhile, firefighters set up a hazardous material tent outside and some firefighters who entered the building wore green protective suits. Battalion Chief Bob Green said a mass spectrometer determined that the powder was 93 percent corn starch. Corn starch is sometimes used in office material to prevent unused envelopes from sticking together, he said.
While the public was not allowed to enter the building, Councilman Jon Snyder, who was running late for the meeting, was escorted inside by Assistant Fire Chief Brian Schaeffer. City Council President Joe Shogan, who was returning from vacation, was absent. The meeting was led by City Councilman Steve Corker.
Schaeffer said the building was closed to the public to control traffic flow.
Corker said he was advised by the city's legal staff that the meeting could go on as long as the scheduled vote on routine items was moved to the council's evening session.
Assistant City Attorney Mike Piccolo said the closure occurred right before the start of the meeting and it was unclear how responders were dealing with the situation.
"We weren't sure if people were allowed in or not," he said.
---
---