Gregoire budget slashes social programs, schools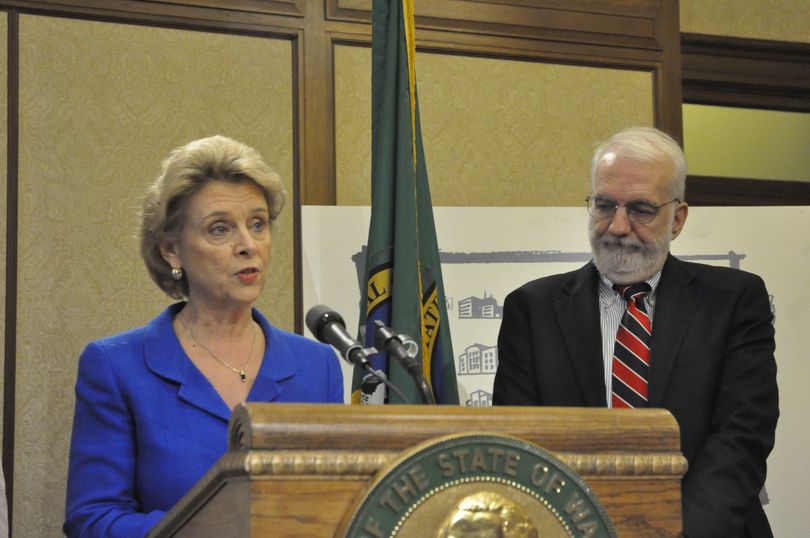 Gov. Chris Gregoire and Office of Financial Management Director Marty Brown announce the proposed 2011-13 state budget.

OLYMPIA--Saying the state faces an economic crisis that requires cuts and restructuring, Gov. Chris Gregoire is proposing deep cuts in some of the state programs that enhance schools and serve the poor.
Her proposed 2011-13 budget, the starting point for discussions that will dominate next year's legislative session, calls for what she calls "devastating" reductions.
"The safety net will be stretched thin in some places and eliminated entirely in other places," she said in her budget message. "This is a budget that touches every community throughout the state."
Download on overview of the proposed budget.
Go inside the blog to see some of the biggest cuts.
Among the cuts she is proposing in key areas of the state budget:
Social Services
• $230 million by eliminating the Basic Health plan, which covers 66,000 people. Non-subsidized Basic Health will continue to be offered.
• $180 million by eliminating the Disability Lifeline grants to temporarily disabled persons who can't work, which covers some 28,000 people each month
• $147 million by eliminating the Disability Lifeline Medical Program which covers about 21,000 people each year
• $98 million by reducing in-home Medicaid personal care to 45,000 people. Clients will see the hours reduced between 4 and 22 hours a month for assistance with bathing, dressing, medication management and other activity.
• $59 million by eliminating the Children's Health Program, which offers covers about 27,000 children whose citizenship has not been documented.
Public schools
• $860 million by suspending the requirement for smaller class sizes under Initiative 728, which voters passed in 2000
• $253 million by suspending raises for teachers and other K-12 employees under Initiative 732, which voters passed in 2000
• $216 million by eliminating smaller class sizes in grades K-4.
• $100 million by suspending annual bonuses for National Board Certified teachers and for those teachers who are working in "challenging schools."
• $96 million by delaying scheduled bus replacements
• $57 million by not increasing a program for all-day kindergarten for thousands of students
Public colleges and universities
• $345 million cut from the schools, but allowing them to raise tuition by a total of $330 million. Tuition at University of Washington and Washington State University would go to $940 in fiscal 2012 and $1,050 in fiscal 2013; to $670 and $740 at Western Washington University; to $545 and $595 at Eastern Washington Universtiy and $280 and $305 at community and technical colleges. The state would also increase financial aid to students.
• $102 million more from the colleges, an average cut of 4.2 percent at the institutions, which is not covered by extra tuition authority, which schools are given the flexibility to implement through fewer course offerings, larger class sizes, smaller staff or fewer support services.
• $57 million by capping state supported employer contributions to higher education pension plans.
---
---