Tue., May 4, 2010
Supplemental budget signed (most of it, anyway)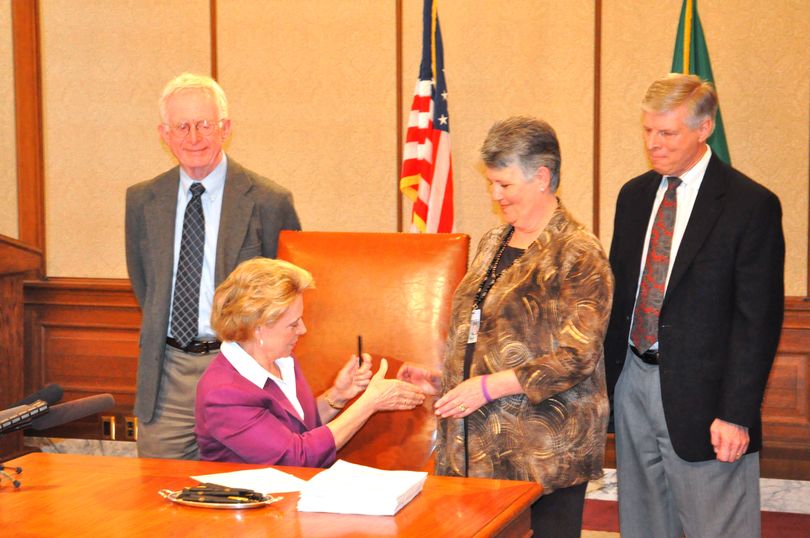 Gov. Chris Gregoire shakes hands with House Budget Chairwoman Kelli Linville and offers Linville the ceremonial pen after signing the supplemental budget.

OLYMPIA — Gov. Chris Gregoire signed a new spending plan Tuesday designed to close an estimated $2.8 billion gap in the state's operating budget with what she said were a "fair mix" of cutting staff and programs, taking federal money and raising taxes.
Before the ink was dry, the Republicans' top budget expert criticized it as relying on taxes rather than needed government reforms, and an analyst for a conservative think tank said the state was placing too much trust in Congress to come through with money for medical programs.
The budget, technically a revision for the fiscal biennium that runs through June 2011, closes or shrinks five state institutions, including the Pine Lodge Correctional Center for Women in Medical Lake.
Gregoire used the veto pen to remove some sections, including an exemption from increased liquor charges the Legislature approved for restaurants and bars, a commission to study public school district consolidations and legislative demands that various state agencies produce reports.


"This budget goes a long way to reforming the way state government works, and I applaud that," Gregoire said. "They had the courage to reduce state spending by eliminating nearly 70 boards and commissions, close institutions and consolidate programs and agencies to increase efficiency."
Sen Joe Zarelli, R-Ridgefield, said the supplemental budget relies on "one-time money and budget tricks" that push the problem to the next Legislature.
"This should have been the year for government reform, but instead the majority party came in talking about raising taxes," Zarelli said. After Democrats suspended a requirement for a two-thirds majority to pass any tax increase "any chance for real reform was lost and the course leading to this unsustainable budget was set."
Gregoire has fired back at Republican critics of her balanced approach, saying she proposed an all-cuts budget in December that no one liked, not even her because it slashed vital health and education programs. No one else proposed a budget that didn't raise some taxes: Democrats burned through a 60-day regular session and 29 days of a special session before passing a budget and tax plan that she and her staffed helped draft. Republicans remained united against any tax increase but did not propose an alternative budget.
Zarelli defended the GOP's refusal to counter with a full budget, saying they had proposed a series of cost-cutting measures in recent years that were ignored, and Democrats wouldn't even approve their own members' proposals to end the state's liquor store monopoly or printing operations: "If our colleagues across the aisle had wanted to discuss our ideas, our doors were open."
As part of the savings for the supplemental budget, the Department of Corrections will close Pine Lodge sometime this month. Gregoire said she was choosing to keep some juvenile facilities open to allow those residents to be closer to their communities and families, but could not use the same reasoning to save Pine Lodge, the only women's correction center in Eastern Washington.
One wing of Pine Lodge was already closed, and in the remaining wing, only half the inmates were from Eastern Washington, she said: "For us, keeping it open did not make good sense." The state hoped local law enforcement officials would take over the Medical Lake facility, but so far both Spokane County and City have ruled that out.
 Gregoire vetoed some sections of the budget, including transfers from the state insurance commissioner and an exemption the Legislature wanted to give restaurants and bars from last year's increases in liquor surcharges. It would have reduced liquor revenue by about $11 million, half of which goes to the general fund.
Bruce Beckett, government affairs director for the Washington Restaurant Association, said his organization had worked with the Legislature and the governor's staff since last fall to craft the exemption from price increases to licensees, who get a volume discount because of bulk purchases. Many restaurants and bars operate on a small margin and have had to swallow the liquor price increases, he said, adding: "She took us by surprise with the veto."
The budget has a projected $453 million ending fund balance – money not expected to be spent when the fiscal biennium closes June 30, 2011. But that depends on the federal government sending the state an estimated $480 million in higher payments for Medicaid. Both houses of Congress have approved some form of an increase, and while they haven't passed identical bills, Gregoire believes "it's a matter of time."
Jason Mercier of the Washington Policy Center said Congress hasn't settled on the amount of those payments, and with increased pressure to cut federal spending, they may not materialize. "It's curious to see the state's budget motto being 'In Congress we trust,'" he said.
If Congress doesn't pass the Medicaid increases, Gregoire said she has two options: call a special session or order across-the-board cuts.
---
---