Tue., May 18, 2010
Welcome to Tacoma, Mr. Secretary. It rains here.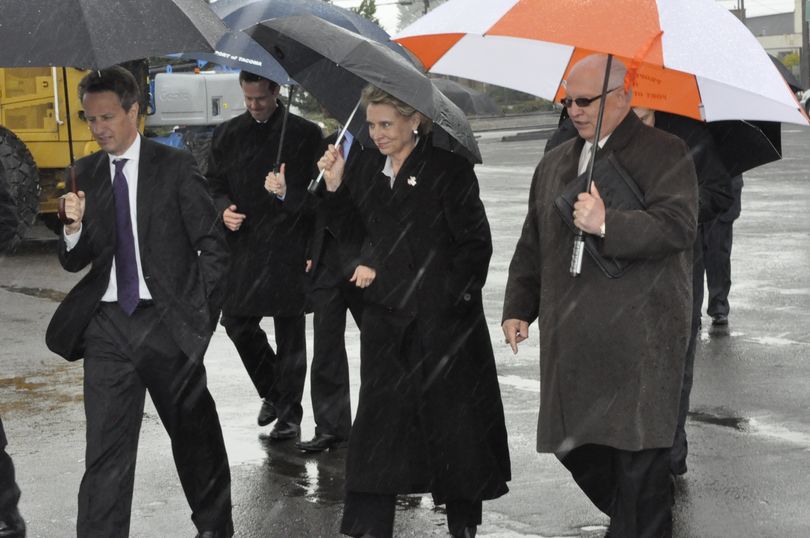 TACOMA -- Treasury Secretary Timothy Geithner got a Washington state trifecta today, experiencing three things for which the West Side is best known: Boeing. Microsoft.
And rain.
In an effort to emphasize the importance of exports to the nation's fledgling recovery, Geithner planned a tour of the Port of Tacoma, specifically a large, outside area where large yellow Caterpillar tractors are lined up to be shipped to China. It was a great backdrop for a prepared speech in which he discussed an upcoming trip to China to talk about more open trade and stronger laws that protect the intellectual property of U.S. manufacturers.
Unfortunately for Geithner and Gov. Chris Gregoire, who joined him, they arrived just as a rain squall moved in, leading to what he later characterized as a "quick, soggy tour." His speech was moved inside the port offices, where he noted that U.S. exports were  up by 20 percent in the first quarter of 2010 compared to the previous year, and were up by 50 percent to China.
Geithner said he'll be in China later this week to talk about three important things: the pace and direction of the country's growth, making sure American companies can compete for the Chinese market without undue restrictions and "reforming their exchange rate to reflect market forces."
Exports are part of the reason the unemployment rate is coming down, he said. It's part of a "rebalancing of growth" coming out of the recession: "As we in the U.S. save, invest and export more, other countries are increasing consumption."
Washington state saw it's first decline in unemployment numbers in 36 months, and Geithner was asked what he would say to people still out of work or worried about losing their jobs, who want to know when the recovery will help them.
The federal government does have plans to move some of the money recovered from the bailout of the large financial banks to the smaller community banks, which could provide stability for the housing market and help more homeowners. But "when?" will be depend on the individual, he said.
"The test for many people is 'When do I have a job?'" he said. "It is going to take us time to heal what was damaged and fix what was broken."

---
---