Gregoire smoking mad over Camel promo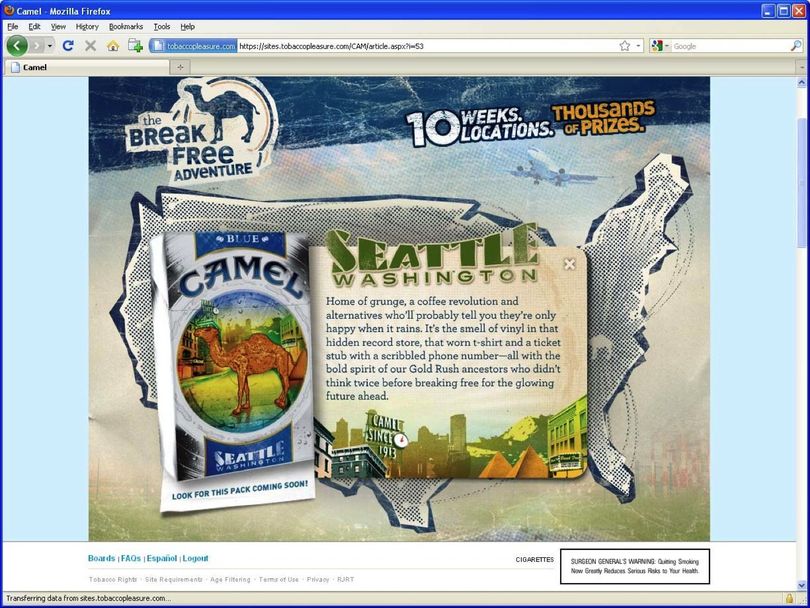 OLYMPIA -- Gov. Chris Gregoire is blasting the makers of Camel cigarettes for its use of Seattle as one of 10 "cool" locations in an ad campaign.
The "Breaking Free" campaign, which will use 10 locations on which the iconic dromedary and standing in front of an artistic rendering of Pike Place Market and Mount Rainier. "Home of grunge, a coffee revolution and alternatives who'll probably tell you they're happy when it rains. It's the smell of vinyl in that hidden record store, that worn t-shirt and a ticket stub with a scribbled phone number -- all with the spirit of our Gold Rush ancestors who didn't think twice before breaking free for the glowing future ahead."  (Note to RJ Reynolds: You'd have to be smoking something much stronger to see the mountain, Pike Place and the skyline like that.)
"I am alarmed and disappointed at R.J. Reynolds' new marketing campaign which exploits the name and image of Seattle to recruit young smokers," Gregoire said in a prepared statement today. "Special edition cigarette packs featuring Washington landmarks, including the Pike Place Market and Mt. Rainier, are being co-opted to sell a product that is responsible for killing about 7,500 people in our state every year."
The glowing future is "a one-way ticket to disease and addiction," she said.

Reynolds contends it is not a program aimed at teens. The locations they picked are adult themed, such as Las Vegas, Sturgis, S.D., which is the site of an annual motorcycle gathering, and Route 66. The contest is connected to a website that is designed for adults, asking for date-of-birth information as well as name, street and e-mail address, phone number and brand preference. (None/non-smoker is not an option.)
And of course, teen-agers never lie about their age to get something they want.
Gregoire is not alone in her ire. The city of San Francisco is unhappy that one of the other break away destinations is The Haight. The Campaign for Tobacco-Free Kids has called on Reynolds to cancel the campaign.
The company has thus far refused.
---
---