Wed., Sept. 8, 2010
Republicans absent from corridor celebration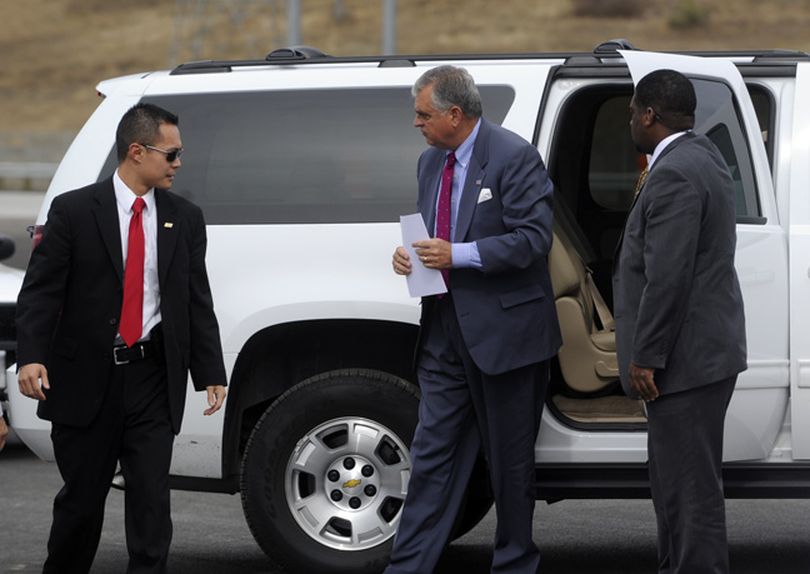 The following is a corrected version of an earlier post.
Noticeably absent from the ceremony on Tuesday that celebrated the start of construction of a portion of the North Spokane Corridor were any elected Republican officials.
It was Spokane Mayor Mary Verner who served as master of ceremony (though the freeway still hasn't reached city limits). The speakers besides honored guest U.S. Secretary of Transportation Ray LaHood, included U.S. Sen. Patty Murray and state Sen. Chris Marr -- both Democrats facing tough reelection battles.
Besides the speakers, among those who were given gold-colored shovels to "break ground" were state Rep. Timm Ormsby, D-Spokane, and state Rep. John Driscoll, D-Spokane.
Officials said the event was organized by Murray's office and the federal transportation department. So were Republicans shunned?
Maureen Knightly, a spokeswoman for the U.S. Department of Transportation, said Republican U.S. Rep. Cathy McMorris-Rodgers received an invitation to the event last week.
(An earlier version of this post quoted a Murray spokesman who said McMorris-Rodgers likely wasn't invited because of her stance against the stimulus bill.)
McMorris-Rodgers was not invited to a ceremony in February where it was announced that the state won the $35 million grant for the project. The freeway lanes are being funded through the controversial $787 billion federal stimulus legislation that McMorris-Rodgers opposed and Murray supported.
Other Republicans who were invited included Spokane County commissioners. Commissioner Todd Mielke confirmed that county leaders were invited but couldn't attend because of a previously scheduled public hearing. He said commissioners participated in a later meeting at the Spokane International Airport with LaHood and several local and state transportation officials.
LaHood, who arrived in a white Suburban escorted by two Spokane Police cars, spent much of his speech praising Murray for her vote in support of the stimulus bill and for her work to create the competitive grant program using stimulus funds that ultimately funded the southbound lanes.
The groundbreaking ceremony was held on top of the future lanes near a completed railroad tunnel that goes under the freeway. Attendees pulled off the highway with the help of orange barrels and lane restrictions.
 A flashing construction sign warned drivers that there was a "CEREMONY AHEAD."
The event was the second celebration of the project in the last year. In February, Gov. Chris Gregoire headlined an event nearby when the $35 million grant for the southbound lanes was announced.
Murray and other speakers on Tuesday stressed job creation -- a main focus of Democrats this fall as they battle to keep their seats as the economy remains sluggish.
"I'm going to keep working on projects just like the North Spokane freeway and keep working to find good targeted programs that help our businesses grow and help get our workers back on the job," Murray said.
Even so, in an interview before the ceremony, Murray was reluctant to endorse President Obama's plan to spend $50 billion more in transportation projects by eliminating certain tax breaks or his plan to create an "infrastructure bank."
Attached to this post are LaHood's comments after the ceremony about the infrastructure bank, a portion of Murray's speech praising the project (and by extension, the 2009 stimulus bill) and a quick interview with Murray about Obama's new stimulus proposal.
---
---