Fri., May 6, 2011
Slain officers honored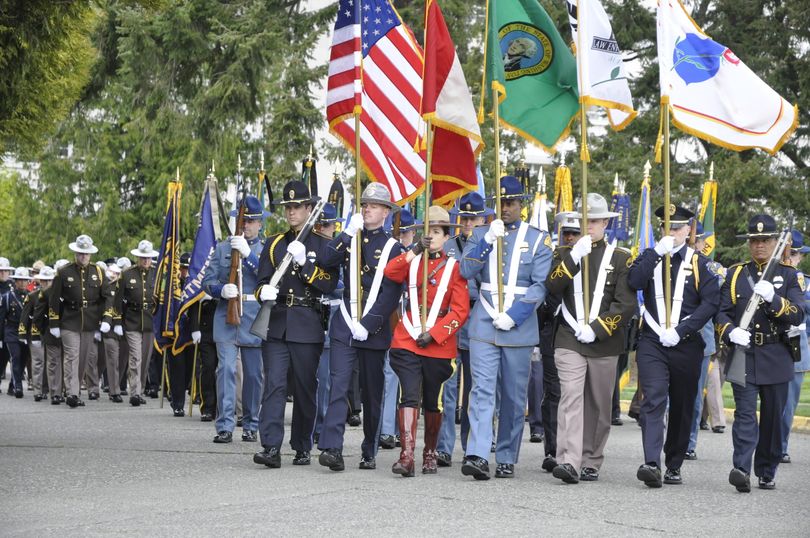 The honor guard arrives Friday for the Law Enforcement Medal of Honor/Peace Officers Memorial ceremony.
OLYMPIA – After the bugler played "Taps", the bagpipers played "Amazing Grace" and the honor guard was dismissed Friday, Marjorie Petersen and Manuel de Encio went to the state Law Enforcement Memorial to get graphite rubbings of the newest name on the stone monument.
Their friend and co-worker, Monroe Corrections Officer Jayme Biendl, was the first person killed in the line of duty in a Washington prison in more than 30 years. Department of Corrections officers in their dress uniforms joined immaculately attired police, sheriff's deputies, state troopers and even red-jacketed Canadian Mounties in the honor guard.
"It's kind of a change in our culture," said Petersen, a corrections officer, as de Encio, a volunteer at the installation made some final pencil swipes over the paper that showed Biendl's name and date of death. Some security changes have already been made, and more are on the way, she said...
To read the rest of this post, or to comment, click here to go inside the blog.

Lindsey Tiroux of the Federal Way Police Department had just finished a rubbing for the monument's other new name, Officer Brian Walsh, who suffered a fatal heart attack while responding to an officer involved shooting. She said she was one of about 50 employees of the department to come to Olympia for the ceremony.
"Everyone liked Brian. He was a great guy," Tiroux said.
The annual ceremony, held at the monument that overlooks Capitol Lake and Budd Bay beyond, is a somber event that honors officers killed on duty. "Recent years in the state of Washington have been especially difficult," said Gov. Chris Gregoire, who placed a wreath in front of the monument that carries the names of all slain officers since territorial days. "There have been far too many losses."
Gregoire and Attorney General Rob McKenna also awarded the state's Medal of Honor to two officers.
One went to former State Trooper Scott Johnson was shot in the head while processing a drunk driver in Long Beach in February 2010; he not only survived but was elected Pacific County sheriff last year.
Another went to Cowlitz County Sheriff's Sgt. Troy Brightbill who saved a West Longview woman from her samurai sword-wielding son. Brightbill got between the two, pushed the woman out of the house, stopped the man with his Taser, then wrestled him to the ground and handcuffed him. Sheriff Mark Nelson nominated the sergeant for calm, quick action; Brightbill told the Seattle Times he "could probably never pull it off again if I practiced a million times."

---
---