Thu., Sept. 29, 2011
Verner, Condon clash in Rotary debate over style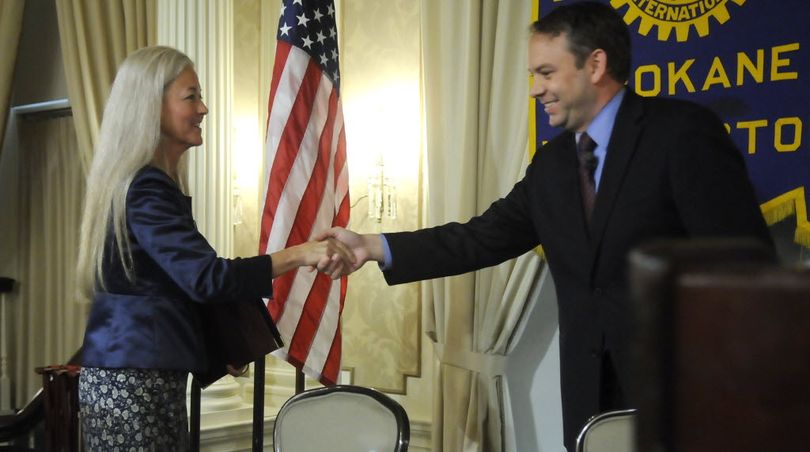 One of the first mayoral debates between Mayor Mary Verner and her November election opponent David Condon was at its core a focus on style.
Condon promised to take charge of the bureaucracy.
"It's a question of leadership," he said. "The mayor has to be in charge and not let the departments have their own way and set their own agenda."
Verner argued that her inclusive decision-making process has led to better outcomes.
"City government under my leadership is a much more efficient and responsive public service organization, and I want to complete the reforms that I have started," she said. "I begin by listening – listening to our businesses, listening to our citizens, and then I determine exactly what the problem is. And then I go about fixing it for lasting reforms within the city."
The two faced off Thursday afternoon at the weekly meeting of the downtown Rotary Club at the Spokane Athletic Club.
Verner noted that she's faced multi-million dollar shortfalls when budgeting the last few years, but has achieved balanced budgets without significant service cuts with the help of union concession.
"I did that while continuing to deliver high-quality essential services to our citizens," Verner said. "You've almost not felt the cuts that we've made in the budget. I've done that by sitting down with our citizens, our neighborhoods, my department directors and our unions. And we together focused together on serving you."
Condon questioned increases in the overall city budget and pay raises at a time of stagnant economic growth and noted that the budget was balanced with big help from fee increases Verner supported. He criticized a new utility tax supported by Verner early in her administration and double-digit sewer and water rate increases approved this summer.
"Taken together this is a big hit on the citizens of Spokane. I think we need a city government that is focused, sets priorities and lives within its means," Condon said. "The mayor can't do everything. My priorities will be to make sure city hall gets back and works for you."
Condon said Verner has been distracted by issues that aren't "absolutely essential."
"Mary Verner has put her priority in a sustainability agenda," Condon said. "While that may be well-intentioned those are the wrong priorities at a time where unemployment has doubled to 9 percent and our home prices continue to fall."
But Verner said her sustainability plan is about saving money as much as helping the environment.
"I'm not ashamed of having saved the city hundreds and thousands of dollars by reducing the amount of electricity and fuel that we consume," she said. "That's what my sustainability effort is all about – making city government more sustainable by investing funds where we need to invest them and saving money were it makes sense to save money."
---
---