Tue., Aug. 14, 2012
Creepy or cute? Shea posts pic of himself standing on opponent's property
State Rep. Matt Shea, R-Spokane Valley, is refusing to remove a picture of his election opponent's home from his Facebook page.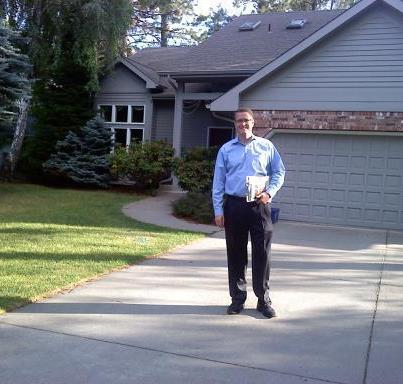 Amy Biviano, the Democrat who is challenging Shea's election bid, said Friday that she left voicemails with Shea and with Spokane County Republican Party Chairman Matthew Pederson requesting that the photo be pulled but hasn't received a call back. She said she and others also have posted comments on Shea's Facebook page asking that the photo (left) be removed, but those comments have been deleted.
Late last week Shea posted the picture of himself standing on Biviano's property along with the comment: "I wanted to give a special thanks to all of those in the newest 4th District Precinct ....Thank you all for the overwhelming show of support, what a great neighborhood! Oh...and that's my opponent's house in the background. =)"
His post listed the intersection near where she lives.
Attempts made to reach Shea were not successful. Pederson said Monday that he returned Biviano's call, but that he hasn't heard back from her. He said he hasn't seen the picture Shea posted of Biviano's home.
"I wasn't going to pursue it any further," he said.
Biviano said Monday that she never received a return call from Pederson.
The location of candidates' homes usually is public, but Biviano said she is uncomfortable with Shea "posting pictures of someone's house with the implication being that you should visit," especially since her husband is a former federal deputy prosecutor.
"Given his pattern of violent and threatening behavior, I'm not surprised to see Mr. Shea attempt to intimidate me in this way," Biviano said. "I find it remarkable that a man who called the destruction of cheap plastic signs a hate crime would then refuse a mother's request to protect her family."
Earlier this year, Shea claimed to be a victim of a hate crime when one of his signs was vandalized with swastikas.
Late last year, Shea was charged with a misdemeanor gun charge in Spokane related to a road rage incident.
Accusations that Shea had a problem controlling his anger emerged last year when Spokane County commissioners debated if he should be appointed to an open state Senate seat.
---
---