Fri., Feb. 10, 2012
Condon presents goals for first 100 days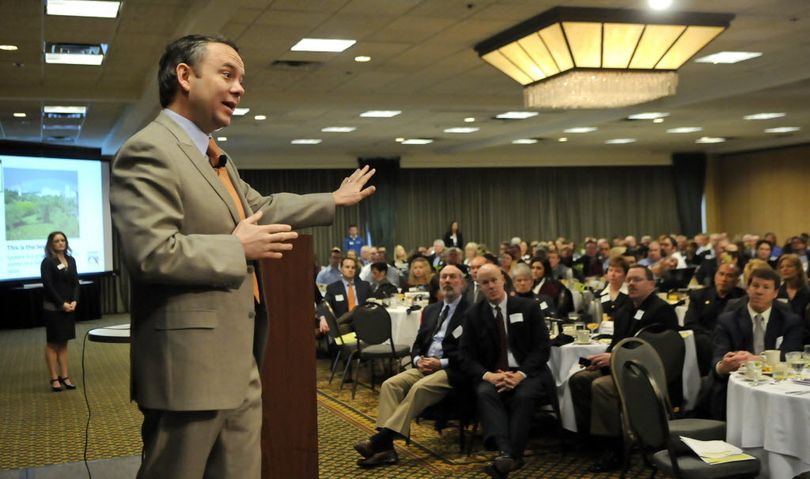 Spokane Mayor David Condon unveiled his 100-day action plan on Friday with only 58 days left to complete his list.
Among his promises for within his first 100 days in office:
- Providing training to police and firefighters for working with "vulnerable" populations.
- Form a committee to advise the mayor on small business issues.
- Work with Spokane County to create committee to analyze possible government consolidation opportunities.
- Analyze the city's 1,600 pieces of real estate and consider selling some of it.
- Assign police officers to attend neighborhood council meetings.
- Improve the city's permit system.
Some items of the initiative are carry-overs from Mayor Mary Verner's administration, such as improving the permitting system. Some ideas have been around for decades, like government consolidation. Some are new, such as the small business group.
A full list of Condon's 100-day plan is here.
Condon unveiled the list in his "inaugural speech" breakfast at the Red Lion at the Park sponsored by Greater Spokane Inc., the area's Chamber of Commerce.
You might be saying, "But didn't Condon already give a speech at his inauguration? And at his inaugural ball?"
The answers are yes and yes.
Friday's speech was basically the 'State of the City' address, which is always sponsored by Greater Spokane and not to be confused with the "Statement on the Conditions and Affairs of the City" address later this year. That's the speech required by the City Charter.
PHOTO: Spokane Mayor David Condon answers questions from the audience after he delivered his 100-Day Action Plan address this morning at the Red Lion Inn at the Park. Photo by Dan Pelle.
---
---