Tue., Feb. 14, 2012
Santorum brings the 2012 race to the Inland Northwest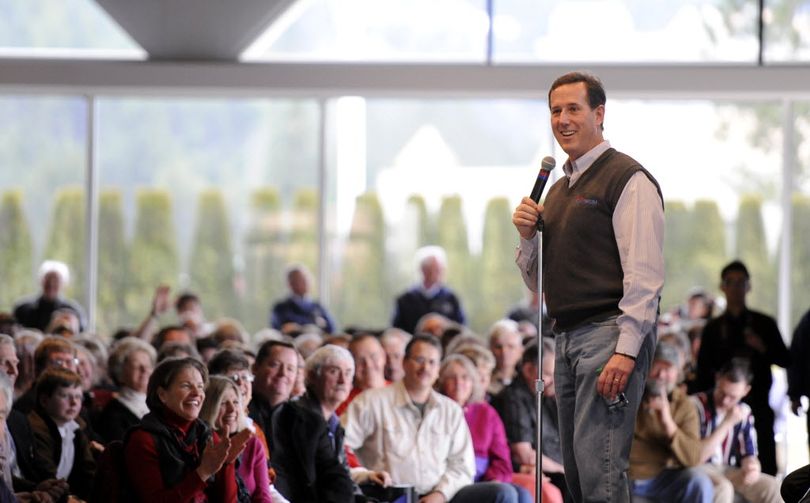 Rick Santorum became the first presidential candidate to visit the Inland Northwest, just as national polls shows him emerging as the Republican favorite.
In response to questions from the press, Santorum downplayed the polls, noting that he had de-emphasized the same polls in recent weeks when they showed him behind.
"We just have to earn it one state at a time," he said, adding, however, that the boost "has helped us in fundraising."
Santorum, a former Pennsylvania senator, spoke for about 35 minutes and answered audience questions for an hour more at the Hagadone Events Center in Coeur d'Alene. About 600 packed the room, and police turned away dozens of cars at the gate.
Addressing the crowd in jeans and his signature campaign sweater vest, Santorum focused on what he described as attacks on freedoms by big government and President Barack Obama's "hostility" toward religion. He compared the American revolution to the French revolution and said that the American war for independence proved lasting because it was rooted in a higher power, while the French revolution was more focused on "fraternity."
The Constitution exists to "protect one thing and that's to protect the rights given to you by God," he said.
Santorum didn't focus on the economy and jobs until nearly 20 minutes into his appearance.
This election is about the economy and jobs, "but, ultimately, it is about the role of government in your lives," he said.
He said he is the best Republican to take on Obama in the November election because of his position on health care.
"If we don't win this election, Obamacare will be implemented," he said. "If Obamacare is implemented, the America as I describe it to you will be no more."
Without mentioning his opponent, former Massachusetts Gov. Mitt Romney, by name he mocked the health care law that Romney signed when he was governor.
"Don't go to Massachusetts to try to get any healthcare," he said. "You'll be in a long line."
Santorum also criticized another of his GOP opponents, U.S. Rep. Ron Paul, for Paul's criticism of national defense spending.
Idaho holds its caucus on March 6.
"I hope the conservative bastion of Idaho speaks loudly," he said.
Santorum stayed in the room for another half hour, shaking hands, signing autographs and answering questions for voters and the press before heading to an event tonight in Boise.
PHOTO CAPTION: Presidential candidate Rick Santorum answers questions from the crowd Tuesday, Feb. 14, 2012 at the Hagadone Events Center in Coeur d'Alene. After his stop in the Lake City, he was headed to Boise for an evening event. Photo by JESSE TINSLEY jesset@spokesman.com

---
---