Wed., July 11, 2012
Republican star stumps for McKenna in Spokane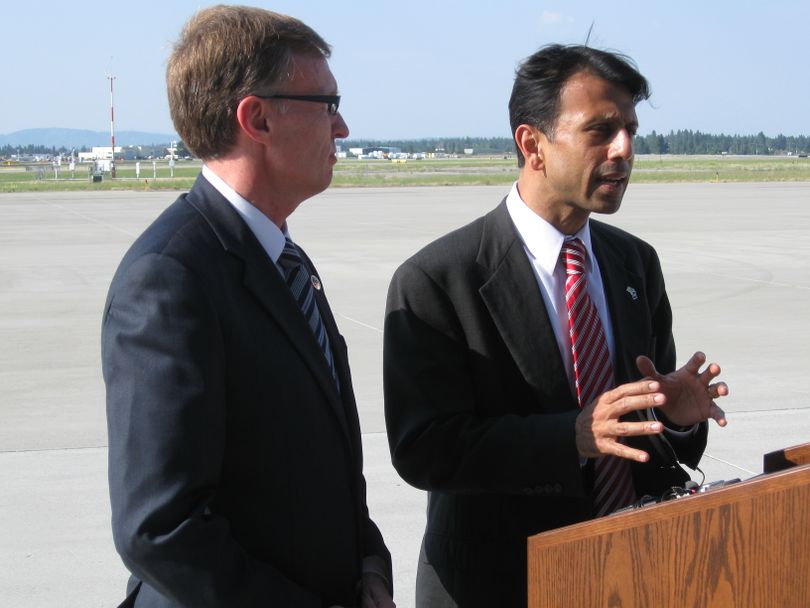 The frontrunner to be the Republican nominee for Washington governor brought a GOP star to Spokane on Wednesday to help raise money for his campaign.
Louisiana Gov. Bobby Jindal – often listed as a potential vice presidential nominee this year as well as in 2008 – joined Washington Attorney General Rob McKenna soon after disembarking from a private jet at the Spokane International Airport about 5:15 p.m.
After speaking briefly to reporters at a podium not far from the parked plane at the XN Air terminal, Jindal and McKenna were headed to a fundraiser at an undisclosed private residence in Spokane. McKenna spokesman Charles McCray said he didn't have details immediately available about how many people were expected or how high of a contribution was required to attend. He declined to say who was hosting the event.
At their media briefing, Jindal criticized the Democratic frontrunner for governor, former U.S. Rep. Jay Inslee, for his opposition to rules requiring two-thirds votes to approve tax increases.
"He's used to doing things the Washington, D.C. way," Jindal said. "You don't need to be doing that in Washington State."
Jindal praised McKenna for his fiscal conservatism and platforms, especially on education.
McKenna "understands that it's not just more dollars, it's also more reforms," Jindal said.
After the McKenna campaign announced that Jindal was heading to Spokane, the Washington State Democratic Party sent a news release pointing to one of Jindal's education reforms. Jindal has supported state vouchers to allow Louisiana students to attend parochial schools using taxpayer money.
Jindal defended vouchers and said they allow children from poor families to break away from failing public schools.
McKenna said he was impressed by Jindal's work on education, but stressed that his plan for education in Washington does not include vouchers.
"I don't think that the vouchers are right for our state," McKenna said.
Jindal said he has been declining to answer questions about the potential of joining the Republican ticket for vice president. But he added that he believes the race for president won't be effected much by who is picked by Republican Mitt Romney to be the vice presidential nominee.
This article was updated on June 12, 2012 to correct an error regarding which organization sent a news release criticizing Jindal's position on school vouchers.
---
---