Tue., July 17, 2012
Condon boosts City Hall outreach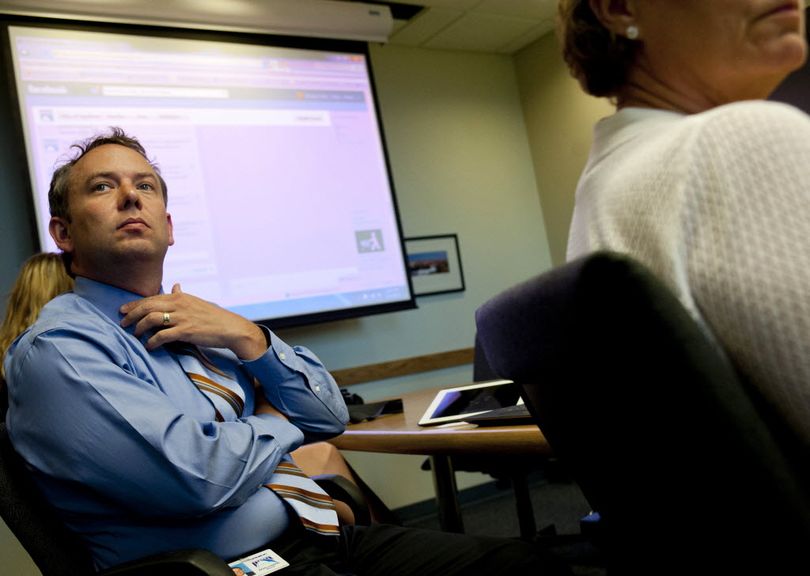 Early in his term, Mayor David Condon appeared frustrated with the city's ability to stay in touch with its citizens.
"It should be easier to contact the mayor and to get back to you," Condon said in a televised call-in show with the mayor and City Council President Ben Stuckart that aired live on KSPS in February.
Condon noted that he previously worked on the staff of U.S. Rep. Cathy McMorris Rodgers and was used to helping answer and track large volumes of constituent questions and concerns.
This month, Condon is unveiling two new communication strategies already commonly used by other government officials. On Tuesday, Condon and a few other city administrators responded to questions on Facebook during the city's first official Facebook chat. Both events are focused on getting citizen input on the 2013 budget.
"This is another way we can communicate," Condon said, while taking a break from answering questions. "Were doing it during the lunch hour so people if they wanted to can break away from work and see what their city is up to."
Condon's staff is working on a proposed 2013 budget for the city's general fund, which includes police, fire, library, parks and other services paid for mostly through taxes. Condon has said he will propose spending about $164 million, the amount that also was budgeted for this year. That will result in about $10 million in cuts to services as a result of the increased cost of employee health benefits and other spending.
The mayor and his administrators sat around the mayor's conference room table with laptops and answered questions as they came in. Nine people submitted questions or concerns, though city spokeswoman Marlene Feist said hundreds of others likely were following the forum.
Questions included inquiries about police, youth and arts funding. One man demanded to know why they city replaces street signs once they become less reflective.
Answers sometimes weren't specific, stressing that Condon's proposed preliminary budget – including how many employees he proposes to remain employed in each department – won't be released until Aug. 1.
On Tuesday, the mayor will hold a town hall-style meeting by phone. Feist said the city will pay Colorado-based Telephone Town Hall Meeting about $4,000 to run the event. The company will randomly call 40,000 Spokane residents to see if they want to listen to Condon speak. Participants will be able to answer survey questions and ask Condon questions. Folks not invited randomly also can participate by dialing in.
"Not everyone can go out at night and go to a community center," Condon said. "This is another way to communicate with the citizens."
CAPTION FOR ABOVE PHOTO: Spokane Mayor David Condon listens to questions from the media after hosting a public Facebook chat from City Hall on Tuesday, July 17, 2012, at City Hall in Spokane, Wash. The Facebook chat aimed to reach out to voters about the 2012 budget. Photo by TYLER TJOMSLAND tylert@spokesman.com
---
---