Tue., June 19, 2012
Council calls for coal study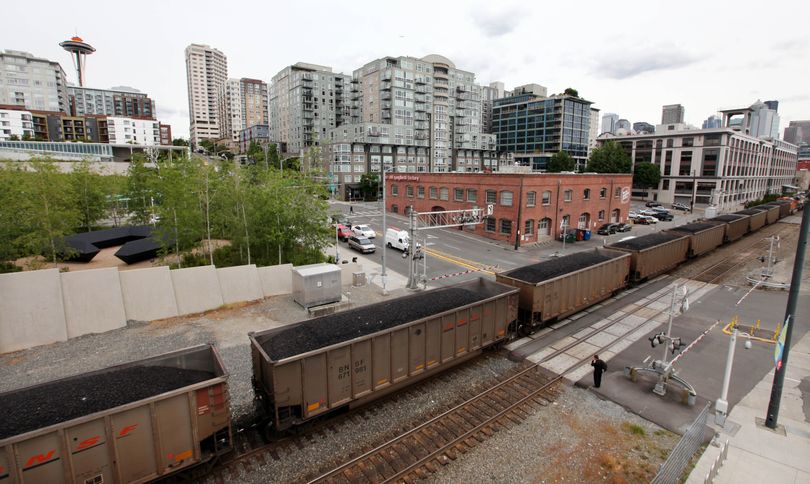 About 40 people on Monday urged local leaders to find out how vastly increased train traffic could cause health problems in Spokane.
After hearing from them, the Spokane City Council unanimously approved a nonbinding resolution asking state and federal officials to study the environmental effects of significantly increasing the amount of coal traveling by train through Spokane. They also requested that a hearing on the matter be held locally.
"As these trains come through, there's going to be an impact," Councilman Mike Allen said. "We just need to know the entire ramification."
The state Department of Ecology and Whatcom County this year will begin reviewing the environmental impacts of building a terminal to ship coal to Asia. If it is built, much of the coal will travel through Spokane by rail.
In the next three months, the agencies will decide what topics will be part of the study – including the effects along rail lines used to transport coal.
Environmentalists are fighting plans to build six coal terminals in the Northwest, including the Gateway Pacific Terminal at Cherry Point in Whatcom County near Bellingham. Their overriding concern is expanding the use of coal and global warming. But several secondary environmental issues also have been raised. Among them is how coal dust and diesel fumes from trains carrying the coal may impact health among people living near tracks.
Earlier this month the Seattle City Council approved a resolution opposing the construction of coal terminals. Council members Mike Allen and Mike Fagan thanked Council President Ben Stuckart for limiting the resolution in Spokane to specific, local impacts.
By some estimates, construction of coal terminals on the coast could result in an additional 50 or more trains traveling through Spokane each day.
"We cannot afford and should have no desire to pay for the profits of coal companies in other states," said former Spokane County Commissioner Bonnie Mager.
Only a few people testified against the resolution. Two railroad union representatives said if China doesn't get its coal through American ports, it will come from someplace else, taking jobs with it. They also said rail companies have worked hard to make engines more environmentally sound.
Dylan Ekins, vice local chairman of the Brotherhood of Locomotive Engineers and Trainmen, said each train would create four "good-paying union jobs."
"It's a drastic increase of jobs to our economy," said Ekins, who works as an engineer for Union Pacific Railroad.
Councilman Jon Snyder said the issue may be even more important in Spokane Valley, where there are more train crossings that block roads.
"People brought up some very heartfelt concerns, a lot of them having to do with children and asthma and traffic," Snyder said after Monday's testimony. "This is not an isolated Spokane concern."
Dr. Robert Truckner, an emergency room pediatric physician at Providence Sacred Heart Medical Center, said diesel exhaust contains extremely small particles of soot that aggravate many conditions, including asthma and chronic obstructive pulmonary disease. He estimated that the proposed increase in trains could increase the amount of particulate matter released from diesel trains within Spokane County by 30 to 55 tons a year.
"Diesel particulate matter kills," he said.
Terry Finn, the executive director of government affairs for BNSF Railway, cautioned against setting "a precedent that would kill off many other projects." He said that considering environmental problems along rail lines for the coal terminal would be similar to rejecting the construction of an airplane factory in Spokane because of environmental concerns hundreds of miles away along routes used to ship parts to the plant.
But Kristen Angell said citizens have a right to understand the environmental effects of boosting train traffic. She said she works hard to provide her children with healthy food and surroundings.
"I can't filter the air they breathe," she said.
---
---