Tue., Feb. 12, 2013
Turnout, ballot drop info for today's election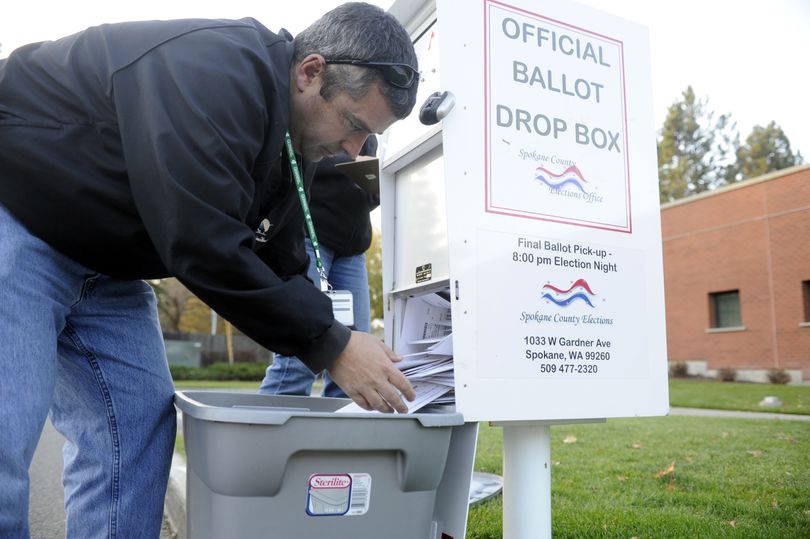 Today is the last day to vote in the February special elections in Spokane, Rockford, Spokane County Fire District 13 and East Valley and Orchard Prairie school districts.
Spokane voters are considering three propositions that would give the police ombudsman more authority; require a City Council supermajority ive-sevenths support from the City Council to increase some local taxes; and boost taxes by $7 a year for a $100,000 property to prevent branch closures and expand hours for the Spokane Public Library. Voters elsewhere are considering tax measures.
For more information on the items on today's ballot, visit The Spokesman-Review's Election Center as www.spokesman.com/election.
Ballots returned by mail must be postmarked by today's date in order to be counted. Voters can avoid having to pay for a stamp by dropping ballots at 13 ballot drop boxes by 8 p.m.
(For the list of where you can drop your ballot without a stamp, keep reading this post.)
The ballot drop boxes open for this election are: Spokane County Elections Office, 1033 W. Gardner Ave.; Spokane Transit Authority Plaza, 701 W. Riverside Ave.; Downtown Library, 906 W. Main Ave.; East Side Library, 524 S. Stone St.; Hillyard Library, 4005 N. Cook St.; Indian Trail Library, 4909 W Barnes Road; Shadle Park Library, 2111 W. Wellesley Ave.; South Hill Library, 3324 S. Perry St.; Argonne Library, 4322 N. Argonne Road; Moran Prairie Library, 6004 S. Regal St.; North Spokane Library, 44 E. Hawthorne Road; Otis Orchards Library, 22324 E. Wellesley Ave.; Spokane Valley Library, 12004 E. Main Ave.
As of Monday afternoon, the Spokane County Elections Office had received 26 percent of the ballots it mailed for the election. The return rate is about 25 percent in Spokane. Rockford, Orchard Prairie School District and Fire District 13 voters had returned 39 percent or more of their ballots. East Valley School District voters had returned 33 percent.
---
---