Wed., July 3, 2013
Outdoor grows in, marijuana logo out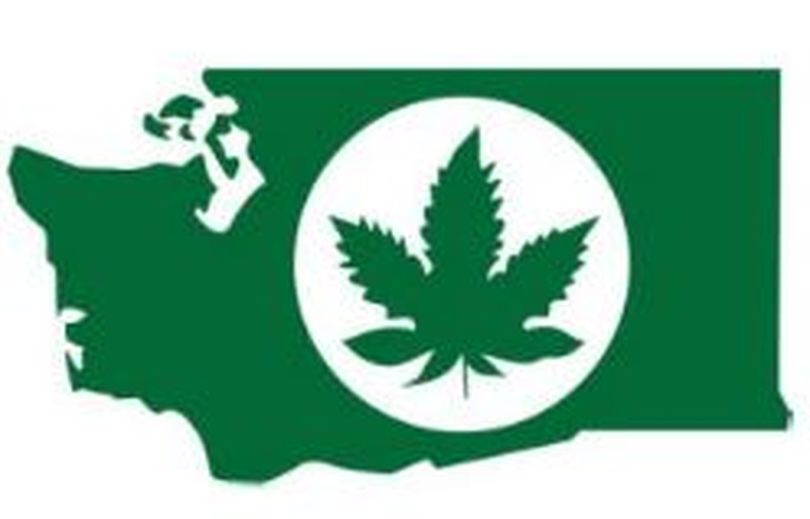 Proposed logo scrapped, another one being developed
OLYMPIA -- Washington will allow legal marijuana to be grown outside if it has adequate security, under new rules receiving preliminary approval today by a state board.
It might have an unlimited number of marijuana growers and processors, but a limited amount of stores where adults can buy the drug for recreational use. . .
To read the rest of this item, or to comment, click here to go inside the blog.
. . .The plants and the products made from them will be tracked "from seed to sale" in secure facilities. Growers who break some regulations on sales, packaging, transportation or security could lose a fourth of their crop on the second violation in three years, half their crop on the third and lose their license on the fourth.
Legal marijuana being sold in licensed stores will have to come in child-proof packaging and be clearly marked with the level of its intoxicating substance. But it won't carry a logo of a marijuana leaf in a green Washington map.
The State Liquor Control Board canned the proposed logo Wednesday and will work on a replacement. Board Chairman Sharon Foster said there are many other logos that used the state map or outline and "we need to have something different."
The board gave preliminary approval this morning to some 80 pages of rules for people who would grow, process or sell marijuana legally under a law passed last year by voters. It plans to hold four hearings around the state, including one in Spokane, in early August to gather public comments. It could make further adjustments based on those comments before the rules take effect on Sept. 16 and the board begins accepting applications for licenses for each of the three activities.
To download a copy of the proposed rules, click here.
"We have no intention of having this well-regulated system fail," Board Chairwoman Sharon Foster said.
It will be the first heavily regulated recreational marijuana system in the nation, and by most standards in the world. Board member Chris Marr said he believed it would be successful, but wasn't sure how it well it would compete with illegal sales and the state's separate, but largely unregulated, medical marijuana operations.
"The real question is what percentage of the marketplace will you capture with a highly regulated system," Marr said.
The latest set of proposed rules include some significant changes from the first draft produced in May. One of the biggest is allowing marijuana to be grown outside. The first draft required the plants to be grown inside, away from public view, in secure facilities. That drew criticism, particularly from some Eastern Washington residents who said that would unnecessarily use up electricity and water that could be replaced naturally with sunlight and rain.
The new rules allow outside production as long as they are away from easy public view, surrounded by 8-foot fences and subject to the same security precautions like video surveillance and controlled entrances that indoor operations must have.
A well-fenced field would be as secure as a corrugated metal shed in an industrial lot, Marr said.
Some people have argued that growing marijuana outdoors could bring down the cost, he added, but the consultants say that's not certain because indoor operations can raise crops year-round.
Any producer will have to tag each plant in such a way that the marijuana it produces can be traced through processing and retail sale. Anyone seeking a license to grow, process or sell marijuana must be a Washington resident for at least three months before applying, have a relatively clean criminal record with only minor convictions for marijuana possession, and all financial backers must also be state residents.
At this point, the board does not expect to limit the number of licenses to grow or process marijuana, but it will set a limit for each county and major city for the number of retail licenses. The board expects more applications than the number of licenses to be made available, and will hold a lottery to award licenses to applicants who meet all qualifications.
There are still significant questions about how and whether the system will work. The federal government has not yet indicated how it will deal with activities that are still illegal under federal law even though they are legal in Washington. And businesses involved in marijuana aren't sure yet how they will be able to open bank accounts to handle to collect money and pay taxes to the state.
Although the board will begin awarding licenses in December, Foster said it's likely that sales of legally produced marijuana in state-licensed stores won't start until late winter or early spring of next year.
---
---