Mon., May 13, 2013
WA Spec Session: They're back. Sort of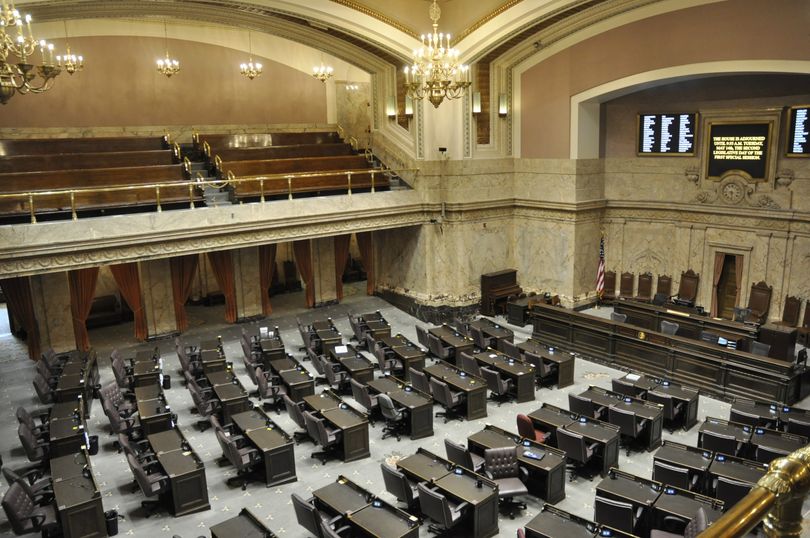 OLYMPIA -- The special session of the Legislature began officially at 9 a.m. with a flurry of inactivity. The House passed a few resolutions and adjourned until Tuesday morning. The Senate went at ease until the afternoon, when Senate Republican Leader Mark Schoesler said enough members would be present to do opening day business like passing the resolutions to get things moving.
Update: At 1 p.m. they managed a quorum, a prayer, and the resolutions from the House that essentially keep all the bills that were introduced in the regular session but not passed in the chamber where they started, at the highest level they reached before sine die.
Total time elapsed: 6 minutes before they adjourned until Wednesday.
So no action on the floor this morning, but there was a floor show of sort in the Rotunda, where the North Klackamas (Oregon) Christian School choir was performing acapella. The accoustics are quite good under the dome, and lots of musical groups stop by to sing or play instruments.
Some of the hymns they sang only confirmed the deeply held beliefs of the press corps that we are all in limbo -- we can hear the music of heaven but aren't allowed to get there. Also appropriate was their rendition of "The Lion Sleeps Tonight".
Wimoweh, wimoweh. The lege, it sleeps right now.
A close look at the House reader board in the above photo might cause some people to worry where it says "the first special session" -- as though the Legislature is preparing for multiple special sessions, rolling on as far as the eye can see.
Not necessarily. That's just how they officially describe things.
---
---