Thu., Nov. 7, 2013
Special Session 3: They're baaaack…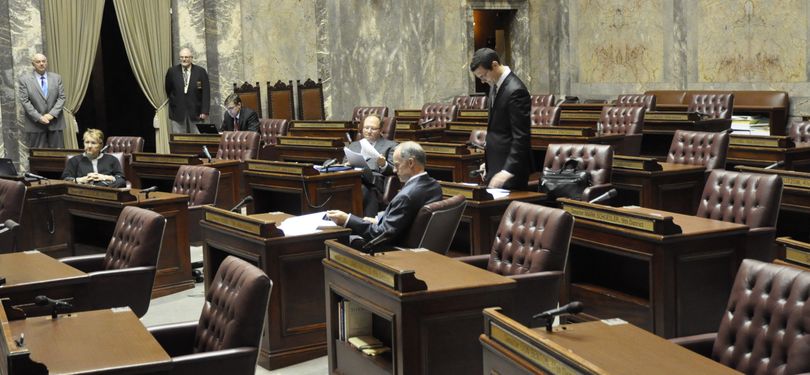 Sen. Joe Fain, R-Auburn, leads a lightly populated Senate through the pro forma opening for this year's Third Special Session.
OLYMPIA -- The Legislature convened -- or should we say reconvened -- this morning, although if you overslept or lingered over that second cup of coffee, you might've missed the action. Such as it was.
As expected, these were starting sessions were pro forma -- which is Latin for nothing much worth seeing -- with a handful of legislators on hand to take care of the necessities like getting the formal notice from the governor and bringing all of the legislation that has been laying dormant since they were last gathered together in June out of mothballs.
The House Finance Committee has a hearing this afternoon, which will be a starting point for HB 2089, tax preferences Gov. Jay Inslee is proposing to accommodate Boeing and its 777X plant. Tomorrow the House Appropriations Committee it will have a hearing on HB 2088, which is the package for aerospace training programs.
Not yet scheduled: the $10 billion transportation package which Inslee says also is needed. That would likely go through Transportation Committees, which currently aren't scheduled to meet until Nov. 21, and haven't had their agendas updated to reflect any new proposals.
---
---