Fri., Nov. 8, 2013
Inslee: Boeing contract is 'jobs for decades'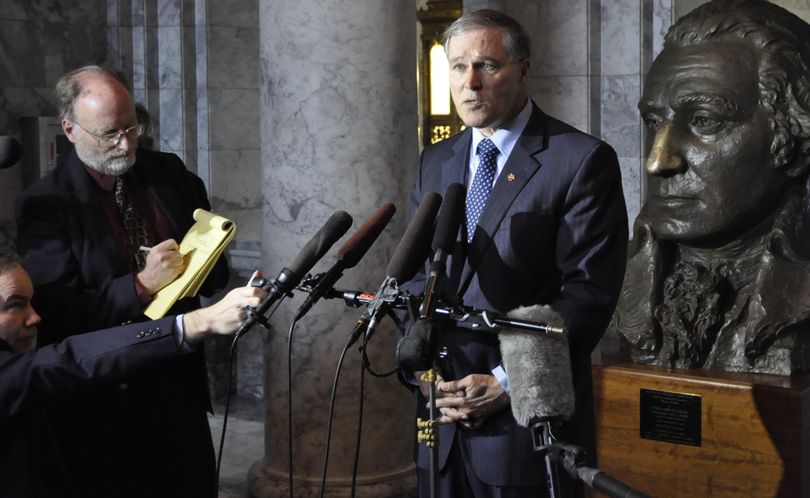 Gov. Jay Inslee says union members should consider contract in 'cool light of day."
OLYMPIA -- With Boeing machinists reportedly unhappy with a proposed union contract, Gov. Jay Inslee tried today to keep the momentum going for a legislative package tied to securing a new jetliner.
Inslee wouldn't go as far as asking union members to ratify the contract. But at a press conference in the halls of the Capitol building, he urged them to "look at it in the cool light of day" and consider that it represented "assurance of jobs for you, and your family and your community for decades."
The Seattle Times reported this morning that rank-and-file union machinists at a meeting Thursday night were vocally unhappy with the contract, which freezes pensions at their current level and replaces a defined benefit plan with contributions to worker's retirement savings accounts. One of their leaders, Tom Wroblewski, who earlier this week stood with Inslee when the governor called for a special session, tore it up in front of his members and called it "a piece of crap", the Times reported.
Inslee called legislators back to Olympia to pass legislation that would accompany the contract and ensure that the 777X would be built in Washington state. Union members aren't scheduled to vote on the contract until Wednesday; the Legislature could vote on a package of tax breaks worth some $8.9 billion through 2040, as well as expanded training programs for aerospace workers, as early as tomorrow.
If the machinists don't ratify a contract and the Legislature does not approve the tax breaks and training programs, Boeing will have offers to build the 777X elsewhere.
"People want to poach these jobs. . .if in fact the deal doesn't go through this week," Inslee said.
---
---