Wed., Oct. 2, 2013
Spokane Congressional offices become sounding board for shutdown ire
Spokane activists upset about the federal government shutdown that began Tuesday are taking a page from Martin Luther.
Fliers from the left-leaning organization MoveOn.org were plastered on the walls outside the Congressional offices of Rep. Cathy McMorris Rodgers, R-Spokane, and Sen. Patty Murray, D-Wash., earlier this week, seen in images posted on Twitter by a user who gave her name as "Erica." The sign on Murray's office, offering congratulations for a job well done, remained posted on her office door Wednesday morning, near a sign indicating the office would be closed for the duration of the shutdown.
The signs blame the right-wing tea party group for causing the first federal government shutdown since the mid-1990s, threatening services from unemployment check processing to low-income nutritional assistance as well as shutting down thousands of National Park sites throughout the country. House Republicans pushed a measure Tuesday evening that would reopen the parks and ensure veterans receive benefits during the shutdown, but the measure - sponsored by Idaho Republican Rep. Mike Simpson - failed to receive the 2/3 majority needed for passage.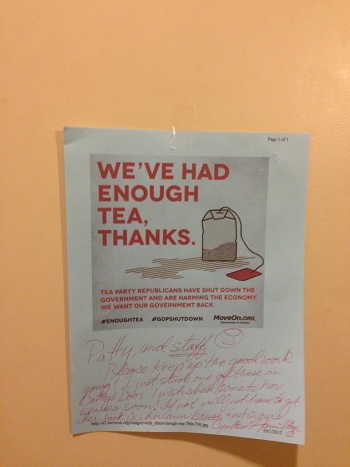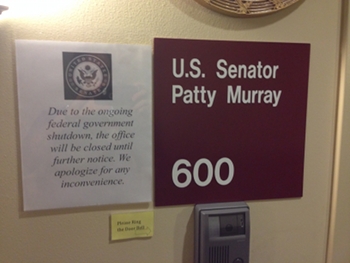 Murray took to the Senate floor Tuesday night to condemn House Republicans for "holding our economy hostage" by refusing to pass a funding resolution without concessions to delay the Affordable Care Act.
"To be clear, this shutdown would be over immediately if Speaker Boehner would simply allow both Democrats and Republicans in the House to vote on the bill the Senate has passed multiple times to continue funding the government. But to this point, Republican leaders have chosen shutdown over sanity and politics over the many people who will be impacted by shuttering the government," Murray said in a statement.
But House Republican leadership, including McMorris Rodgers, have accused the Senate of refusing to come to conference on their funding bill. Senate Majority Leader Harry Reid and Obama have stated they have no intention of entertaining any proposals that affect health care in any way.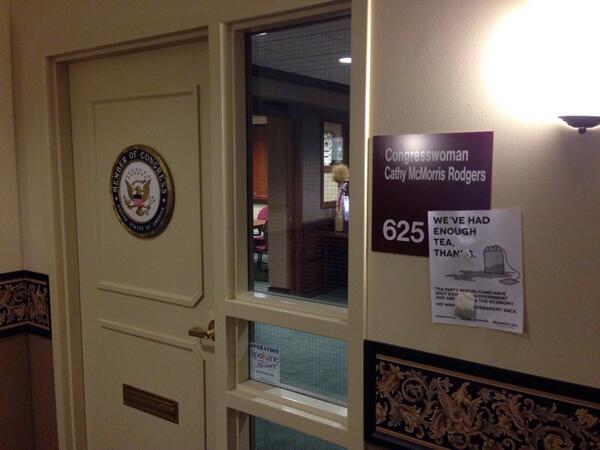 ---
---