McMorris Rodgers mailer used photo without permission, friend says
A week after Rep. Cathy McMorris Rodgers sent a taxpayer-funded mailer with the wrong date for a public town hall meeting, residents in Liberty Lake are crying foul over another postcard they say used a woman's picture without her family's permission.
Tom Brattebo sent the following letter to the editor to the newspaper this weekend:
I'll add another view to the numerous letters regarding Rep. Cathy McMorris Rodgers' recently sent (at taxpayer expense) "Senior Update." The older woman in the picture was a friend of mine for over 35 years. She passed away in January of 2013. The picture was taken a few months prior. The lady was a retired school teacher and principal. She never wanted for medical care through her state retirement and Medicare programs. She did much to assist the less fortunate.

Permission was not solicited by the congresswoman's office for use of this photo. They had no knowledge that she had died.

And, I am married to a "Bette from Spokane."
Brattebo said the woman, pictured below with the congresswoman, is 91-year-old Maxine Davidson. Brattebo and his wife, Bette (not that Bette), befriended Davidson, a longtime teacher and principal for Spokane Public Schools. A memorial scholarship bears her name at Eastern Washington University, according to an obituary published in the Spokesman-Review.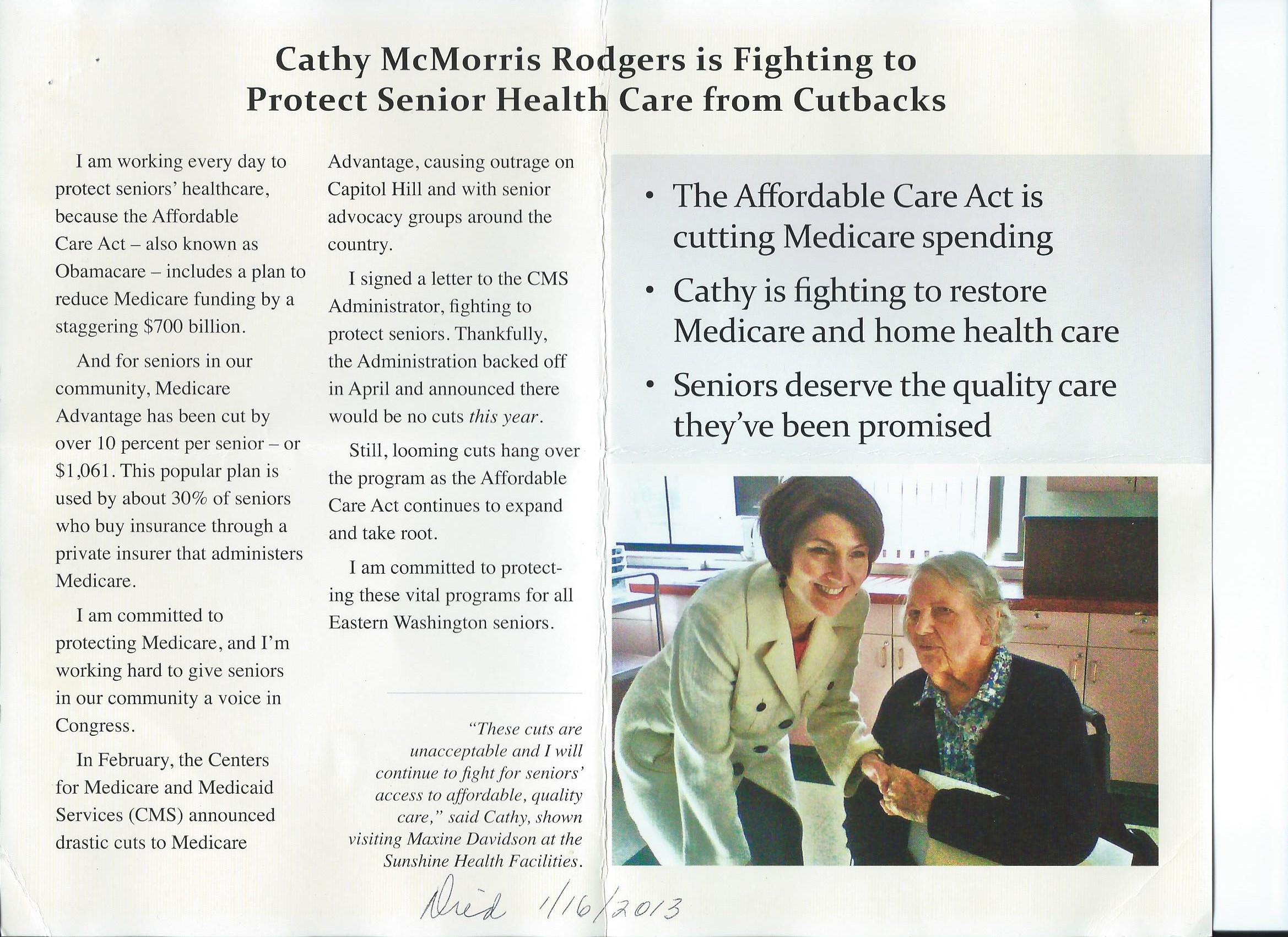 Photo courtesy of Tom Brattebo.
Brattebo's wife retained power of attorney for the retired school teacher, he said. She died in January 2013, a few weeks after the photo was taken with the congresswoman used in the mailer. The couple was not contacted by McMorris Rodgers' office before the mailer was sent. They found out about its use when it arrived in their mailbox last week, Tom Brattebo said.
"It was upsetting," Brattebo said. "She's been gone for a year and a half."
Davidson enjoyed the photo and kept a print of it in her room at the nursing facility where she lived, Brattebo said. But based on his perception of Davidson's politics, it's unlikely the Brattebos would have OK'd the picture's use in the material sent by the GOP congresswoman, Tom Brattebo said.
The Brattebos contacted McMorris Rodgers' office, who apologized for the image's use. In a statement, a spokeswoman said the photo was published due to a breakdown in office policy.
There was a breakdown in our standard approval process at the staff level for use of this particular photo. Going forward the office will work to make certain the approval process is enforced which means in order to use a photo appropriate permissions of those featured will be obtained.

-Statement from Rep. Cathy McMorris Rodgers' office
McMorris Rodgers is scheduled to appear at an hour-long town hall meeting tonight at the Lincoln Center, 1316 N. Lincoln St. The event is scheduled to run from 5 p.m. to 6 p.m. She faces challenger Joe Pakootas, a Democrat, in the November general election for the 5th Congressional District seat in the U.S. Congress.
---
---