Mon., Dec. 1, 2014
O holiday tree. O holiday tree.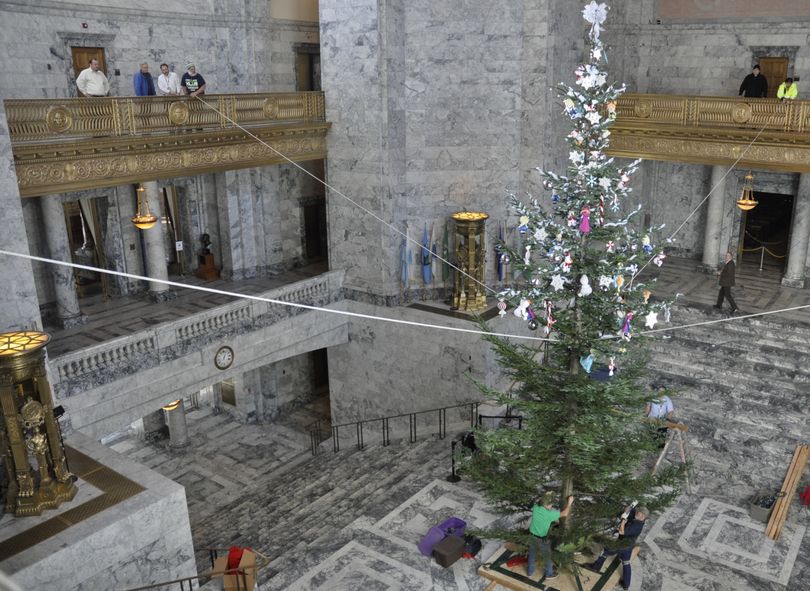 OLYMPIA -- Volunteer state workers hoisted the Association of Washington Business Holiday Kids' Tree onto its stand in the middle of the Rotunda this afternoon after decorating the top half of the 34-foot noble fir.
Note that the tannenbaum, donated by Winkleworld's Tree Farm in Olympia, is officially a Holiday tree, not a Christmas tree. And it has been since long before some conservative talk show hosts went looking for battles to fight in the alleged War on Christmas. That's what the AWB has called it since about 1990, and it's the collection of donated presents and cash is their gig.
About a decade ago, then-Rep. John Ahern, R-Spokane, tried to get it renamed to a Christmas tree, lobbying then-Gov. Chris Gregoire to make the change. To which she replied, it ain't her tree to rename. AWB stuck with the name, despite appeals from Ahern and a group called SavingChristmas.com.
The Holiday Tree remains. Ahern retired and the website has been taken over to promote a movie starring Kirk Cameron that it says will "put the Christ back in Christmas."
The tree is so tall that volunteers decorated the top half before crews pulling on ropes from the third floor balconies pulled it upright and guided it into its stand, which sits atop the covered state seal in the middle of the Rotunda.
A tree-lighting ceremony is scheduled for Friday evening. Toys and money collected by AWB members will be donated to 15 rural fire departments later this month Volunteers from state offices hoisted the Association of Washington Business
---
---