Thu., March 6, 2014
Senate expands liquor rules for restaurants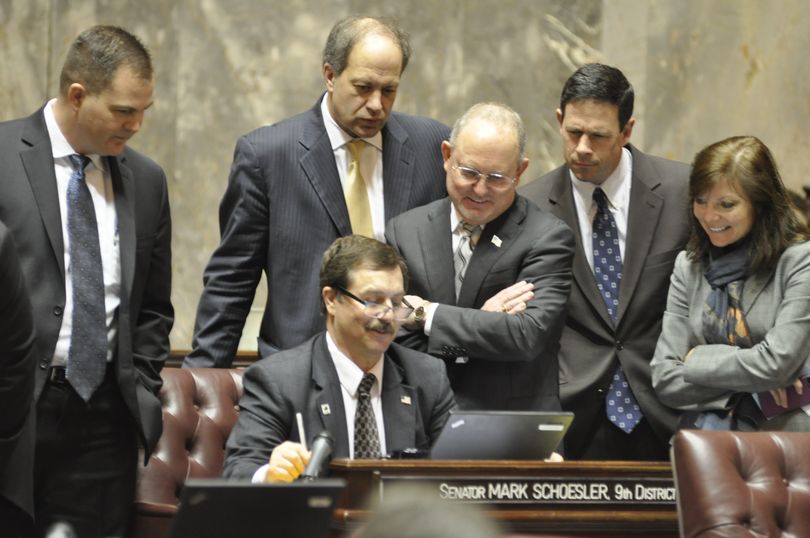 Majority Coalition members watch vote count on liquor sales bill. It passed 26-23.
OLYMPIA -- In a fight over fixing problems with an initiative that got the state out of the liquor business, the Senate tried to make it cheaper for restaurants and bars to restock from local stores.
After much talk about the proper way to "level the playing field" and not "pick winners and losers", the Senate voted 26-23 to allow restaurants and bars to buy liquor from retail outlets without paying the 17 percent tax that other consumers pay. It was an expansion of a law passed last year that allowed them to avoid the tax by buying from the old "contract" stores the state had before Initiative 1183 ended the state's monopoly on wholesale and retail liquor sales.
Some senators wanted to remove the tax for all purchases, arguing the state should not pick winners and losers with its liquor tax policies, but an amendment to do that failed on a 21-28 vote. Others said they should only even out the laws for different retailers, not giving some stores an advantage in selling to bars and restaurants who need to restock certain items between deliveries by distributors.
SB 6220 now goes to the House, which must pass it in its current form before next Thursday or send any changes back to the Senate.
---
---