Wed., March 4, 2015
Prosecutor apologizes for "angst" caused by wife's anti-Muslim comments
Spokane County Prosecutor Larry Haskell apologized Tuesday for the "angst" caused by anti-Muslim comments his wife made on Facebook.
Lesley Haskell's comments, first reported by The Inlander, raised concerns from the Peace and Justice Action League and Center for Justice about whether the community could trust her husband to be fair to people of all religions.
On a Facebook page called "Chicks on the Right," Lesley Haskell commented in response to an article about a Muslim mayor in the Netherlands, who said Muslims opposed to freedom "can pack your bags and leave."
"I don't care what he said, I do not trust muzlims [sic] no matter what," she wrote. "Also, do we know for sure this was correctly translated?"
In response to a YouTube video of a protestor interrupting a Muslim speaker at an event to denounce Muhammad as a false prophet, Haskell wrote, "Oh my God, I love her! That's exactly what I would do."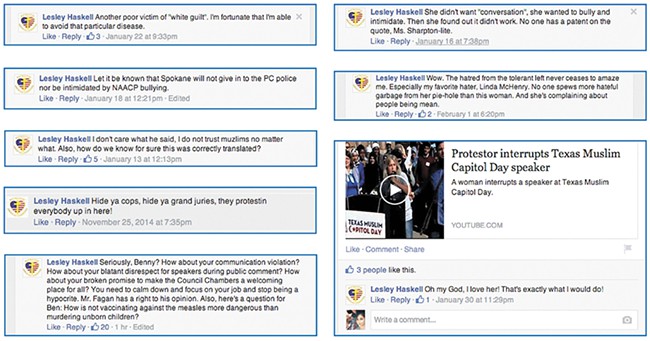 In an interview with KHQ Tuesday, Haskell said that he and his wife disagree about many issues and her views don't reflect his own.
"I would never say those things and I can say that I can see where people would be offended by it. If they had been said by me, I would be deeply apologetic," he said.
He continued, "I can't speak for my wife but I apologize to the community for the angst that it has caused, because it's unnecessary, because my spouse's comments do not reflect my views and they don't reflect the views of this office."
---
---