Fri., Oct. 9, 2015
ON THE ISSUES: Lori Kinnear, candidate for Spokane City Council, District 2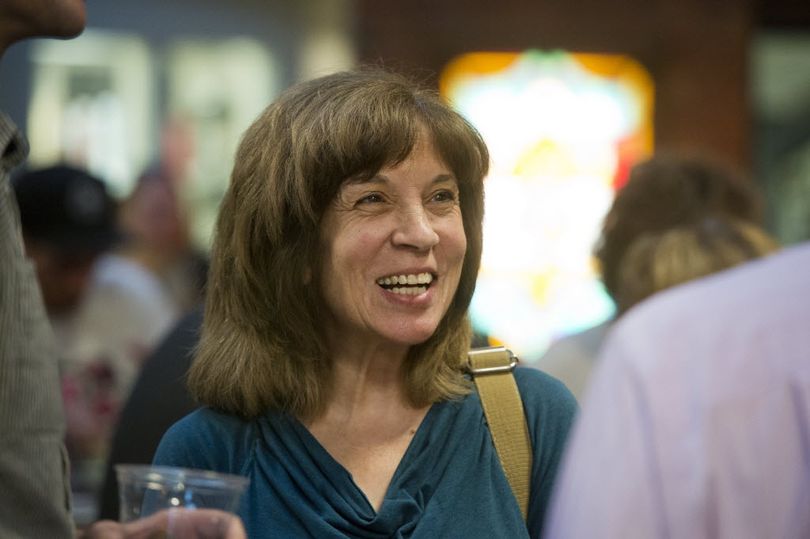 Explain your political philosophy. Who is your political hero?
Kinnear: Local government traditionally has focused on utilities, streets, and public safety. We need fully funded and staffed fire and police departments, and Smart Justice reforms.
We need to grow our tax base by creating incentives for businesses to thrive in our community and provide more jobs.
Citizens should have a say in how their neighborhoods are developed; including our historic neighborhoods.
My political hero is my great, great grandfather John R. Kinnear. He was a populist style Republican who served as a territorial legislator prior to Washington becoming a state and served several terms as a Washington State senator. I have read his views on government and admire that he was representing the people and not special interests.
Describe the current relationship between the City Council and the mayor. If you think the relationship's productive, explain why. If you think the relationship should change, explain why and how you would change it.
Kinnear: The current working relationship between the mayor and city council has room for improvement.
To work as voters intended, the strong mayor form of government must have a strong, independent council responsible directly to the citizens not the mayor. While the Mayor and Council have different responsibilities, they do need to work together specifically on budget priorities and outcomes that benefit the citizens. Each mayor and council member brings their own expectations and set of priorities to the job so the give and take we see these individuals exhibit is part of a healthy process. However, I believe that press conferences, and major announcements, should include the council president or a council member. Council should share major policy initiatives with the administration with the expectation that the result will be a collaborative process.
Last year, voters overwhelmingly approved a 20-year street levy. Under the city's integrated streets policy (also known as Complete Streets), part of that money will go toward pedestrian and bicycle infrastructure. Do you support that money, as well as other funding, going toward alternative transportation? Why or why not? Do you support the city's work on road diets?
Kinnear: I support Complete Streets and worked on that legislation as a legislative aide to council. Complete Streets includes: bike lanes, sidewalks, Americans with Disabilities Act (ADA) ramps, traffic calming options, and accommodations for public transit. These alternative forms of transportation that Complete Streets accommodate, reduce the wear and tear on our streets, reduce traffic congestion, and attract younger workers who are not inclined to own cars.
Road diets work well in most places, but can cause congestion in others. They also can impede emergency vehicles so they need to be examined closely in each suggested application.
Complete Streets, combined with 'smart growth' land use, is integral to planning for our future. We need to grow our community in a thoughtful, economical, and efficient way with consideration to outcomes for our environment, and future generations.
Should the Spokane Police Ombudsman have more or less powers to independently investigate alleged police misconduct?
Kinnear: The position needs more power to investigate, but before that happens the position needs to be reevaluated as to whether it is working as the voters intended. Having the position vacant for almost one year is not acceptable. We need to fill the position, and then put safeguards in place to avoid a prolonged vacancy in the future. The OPO Commission recently recommended hiring one of the final applicants for the position to be interim Ombudsman. That may require an ordinance change.
Do you support the city's recent issuance of $200 million in municipal bonds? Why or why not?
Kinnear: Yes, I support municipal bonds. These are "green" bonds and Spokane is one of the first cities in the nation to use this type of bond. The issuance of these bonds spreads out the cost over 20 years rather than having current ratepayers bear the brunt of higher utility rates.
What's the most underutilized revenue source for the city of Spokane?
Kinnear: Collection of unpaid fees and fines.
Do you support the city's decision to sue Monsanto over PCBs in the Spokane River?
Kinnear: Lawsuits should always be a last resort when all other options are exhausted. In this case Monsanto is not stepping up to bear their share of the cost of river clean-up instead relying on the utility rate payer. They are responsible for a portion of the contamination in our river and should shoulder some of the responsibility to clean it.
Should speed cameras be installed in school zones? Why or Why not?
Kinnear: Yes. Drivers who ignore school speed zones put our children at risk for injury or death. Speed cameras are a cost-effective way to identify those drivers and slow traffic in school zones.
The city has been without a planning director since Scott Chesney was ousted last November, a move that led, in part, to Jan Quintrall's sudden resignation earlier this year. Do you believe the city has suffered due to the unfilled planning director position? And, if asked for advice by the mayor, what qualities would you recommend in a planning director?
Kinnear: In my current role as legislative aide to council I work frequently with the city planning staff. They do an amazing job of collaboration with council while serving the interests of the citizens. The staff and citizens would benefit greatly by having the certainty of a permanent planning director who could move that department forward with the vision of developing our downtown core and Centers and Corridors in a responsible way. A planning director should be a certified planner and have the latest and best information on urban planning for a city our size.
How many public relations professionals, or spokesmen and spokeswomen, should the city employ? Explain.
Kinnear: The actual number isn't the question as much as the efficiency of having a department dedicated to public information. The redundancy of that function now is costly and doesn't serve the community as well as it could or should.
Will you vote in favor of Envision Spokane's Worker Bill of Rights? Why or Why not?
Kinnear: I would not vote for it.
I respect the initiative process, and believe that the hoped-for outcomes are well intentioned, however I question whether this initiative is well thought out or accountable to the citizens. My concerns are that some of the "rights" it speaks of may violate state law, while others are not clearly defined or researched.
Should the city vacate two blocks of public right-of-way on Madison Avenue for use by a car dealership?
Kinnear: No, that right-of way was originally vacated at the request of a car dealership almost two years ago. The City Council was told that dealership would move out of the city if they did not get that space. That information proved to be incorrect. Madison Avenue is a route used by many to access I90. It is also used by large trucks because the railroad bridge over a portion of that road is higher than Monroe Street thus easier for deliveries to businesses in that area. It is a major route for people coming from the South Hill and closing it would add further congestion to Monroe Street.
Since its creation in 2007, the Spokane Investment Pool has grown to contain more than half a billion dollars. In the past five years, the city has borrowed money against the pool to buy new equipment for the fire and police departments, to (potentially) build a Centennial Trail bridge over Mission Avenue, to buy a new fire station in the West Plains, to buy a new property evidence facility and to pay for the land below the old YMCA in Riverfront Park. Do you support the city borrowing money against its investments, much of which is bonded debt? Explain.
Kinnear: Yes, I support this. Borrowing from the SIP saves the city money in interest and thus saves the taxpayer dollars. The one exception is if this money were to be used for the Parks Department over which the City Council has no jurisdiction. This money can be used as matching funds to apply for grants that leverage larger sums of money. The SIP was created to centralize the city's funds and investing capital. The primary concern with borrowing from the investment pool is making sure cash flow is adequate to pay for the city's other responsibilities. According to the City's CFO, when the city has half a billion dollars in liquid assets, cash flow is not an issue. Under the city's existing policy, 15% or $75 million of the SIP can be loaned to the city for a maximum of five years without violating policy.
Does Spokane have a sprawl problem? Should the city develop stronger policies encouraging infill? Is the current model working? Or should the city get out of the way and let development occur?
Kinnear: Spokane County is plagued by sprawl and therefore Spokane city bears the cost and inconvenience of sprawl. I am a strong supporter of creating incentives for developers to build downtown and in our business Centers and Corridors. I participated in creating incentives that would provide utility upgrade for development and to allow buildings that were originally commercial to retain that designation if developed into apartments to keep sewer costs low. The city should partner with local building and development associations to do a buildable land inventory so that parcels can be easily identified by potential buyers or developers. Recently Centers and Corridors Design Guidelines were updated to create infill that would be compatible with our residential neighborhoods.
---
---