Fri., Oct. 9, 2015
ON THE ISSUES: Randy Ramos, candidate for Spokane City Council, District 1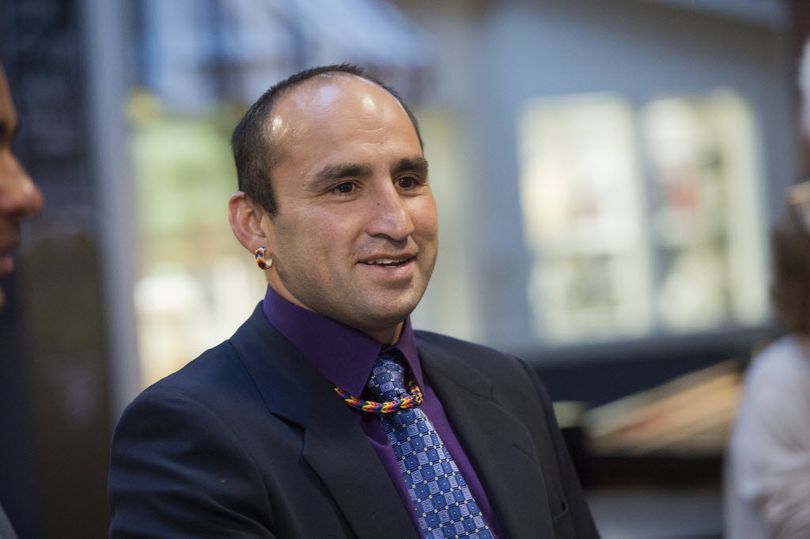 Explain your political philosophy. Who is your political hero?
Ramos: I believe that it is the role of the government to protect community's most vulnerable people, and to ensure that everyone has an equal opportunity to be successful. This means safeguarding the rights of workers and their families, providing a social safety net for people who need it, and supporting education. Dr. Martin Luther King, while he was never an elected official, was able to lead the way for civil rights and expanded the opportunities for everyone to take part in the American Dream. He is my political hero.
Describe the current relationship between the City Council and the mayor. If you think the relationship's productive, explain why. If you think the relationship should change, explain why and how you would change it.
Ramos: It seems like there have been a couple of incidents in the last few months that have strained the city council's relationship with the mayor. I would like to see more cooperation, honesty, and transparency between the two, and I look forward to helping that process once elected.
Last year, voters overwhelmingly approved a 20-year street levy. Under the city's integrated streets policy (also known as Complete Streets), part of that money will go toward pedestrian and bicycle infrastructure. Do you support that money, as well as other funding, going toward alternative transportation? Why or why not? Do you support the city's work on road diets?
Ramos: I believe it's important for commuters to have alternatives to single occupancy vehicles. Research has been quite clear in showing that when people choose to get around by walking, biking, and using public transportation, carbon emissions are reduced, resulting in a positive impact on the environment. I support building roads in a way that expands the number of choices that are available to Spokane's citizens, and results in improved usability.
Should the Spokane Police Ombudsman have more or less powers to independently investigate alleged police misconduct?
Ramos: The Police Ombudsman needs to have the ability to carry out independent investigations of police misconduct. I believe it needs to be a priority of the city's to work this issue out appropriately with the Spokane Police Guild so that the new ombudsman will be able to work effectively.
Do you support the city's recent issuance of $200 million in municipal bonds? Why or why not?
Ramos: Taking care of our river and natural resources is vital not only to Spokane's environmental future, but to our economic future as well. We have a responsibility to the land, and to future generations that will make their homes here, to make sure we are doing everything we can to keep our river healthy. I fully support the issuance of these "green" bonds, and will encourage similar actions in the future.
What's the most underutilized revenue source for the city of Spokane?
Ramos: There is land all over Spokane, and especially in District 1, that is undeveloped and is not being used. We need to find ways to encourage the business community to expand to these areas and spur economic activity; the best source of revenue for the city.
Do you support the city's decision to sue Monsanto over PCBs in the Spokane River? Explain.
Ramos: I believe that it is the responsibility of the city to protect the health and well being of its residents. It's appropriate, then, for the city to hold Monsanto (the sole producer of toxic PCBs for decades), accountable for the financial burden placed on the city as a result of it's harmful activities.
Should speed cameras be installed in school zones? Why or Why not?
Ramos: As a single father of four children, it is very important to me to make sure that children are safe at school. Simply put, placing speed cameras in school zones can save lives.
The city has been without a planning director since Scott Chesney was ousted last November, a move that led, in part, to Jan Quintrall's sudden resignation earlier this year. Do you believe the city has suffered due to the unfilled planning director position? And, if asked for advice by the mayor, what qualities would you recommend in a planning director?
Ramos: In order for our city to be at its best, it's important to have strong leadership. When those roles are vacant, it's hard to see how we can function properly. I look forward to offering my help in finding someone who has a proven track record, and whose primary goal is a successful Spokane.
How many public relations professionals, otherwise known as spokesmen and spokeswomen, should the city employ? Explain.
Ramos: It is a good idea for Spokane to have a person who can speak to the media on behalf of the city, and I believe the city is in a good position with its current staffing levels.
Will you vote in favor of Envision Spokane's Worker Bill of Rights? Why or Why not?
Ramos: The provisions in the Workers Bill of Rights are all things I have come out in support of. A living wage, equal pay for equal work, and the right to just cause termination are vital to a strong workforce, and a strong city overall. I would like to see a better system used to determine the minimum wage, however, and I'm concerned about the potential cost to the city if this initiative is challenged in court.
Should the city vacate two blocks of public right-of-way on Madison Avenue for use by a car dealership? Explain.
Ramos: I believe giving up two streets on Madison Ave. would harm the connectivity of downtown's road system, and it would also put a burden on other businesses that are located in the area.
Since its creation in 2007, the Spokane Investment Pool has grown to contain more than half a billion dollars. In the past five years, the city has borrowed money against the pool to buy new equipment for the fire and police departments, to (potentially) build a Centennial Trail bridge over Mission Avenue, to buy a new fire station in the West Plains, to buy a new property evidence facility and to pay for the land below the old YMCA in Riverfront Park. Do you support the city borrowing money against its investments, much of which is bonded debt? Explain.
Ramos: Borrowing money is usually a risky action to take. We need to make sure that any time we do it, we are doing so carefully and with a strong plan to make sure it is paid back. I look forward to being a part of that decision making process as a member of the City Council.
Does Spokane have a sprawl problem? Should the city develop stronger policies encouraging infill? Is the current model working? Or should the city get out of the way and let development occur?
Ramos: Sprawl usually contributes to longer commutes, which can have negative impact environmentally. Like I've said before, there is a lot of undeveloped land within the city, particularly in District 1. I would like to see the city encourage development in those areas first, before we expand outward.
---
---