Lawmakers urged to help bring salmon back to Upper Columbia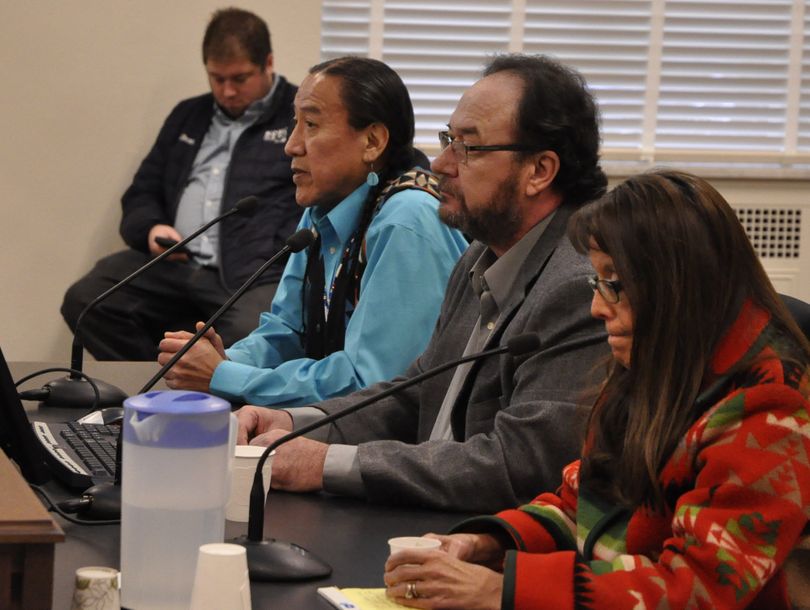 OLYMPIA – Members of the Spokane tribe asked legislators to join an effort to bring salmon back to the Upper Columbia River some 80 years after the Grand Coulee Dam closed off one of the world's greatest fisheries.
But one key lawmaker said he'd want to be convinced first that won't create legal headaches for people and businesses in the region.
"My ancestors were a salmon people," Carol Evans, Spokane Tribal chairwoman, told a House panel considering a memorial to support reintroducing some species of the fish to parts of the river system walled off by Grand Coulee and Chief Joseph dams. Losing that source of food and culture "has been devastating to our people," she added.
House Joint Memorial 4014 calls for the federal government and regional entities that help oversee the river system to explore pragmatic and scientific ways to reintroduce salmon and steelhead behind the dams, and provide for passage them as they migrate to the ocean then return to spawn. That wasn't possible when the dams were built, but might be possible now, D. R. Michel, executive director of the Upper Columbia United Tribes said.
The government, tribes and other partners would look at economical ways to move the fish, possibly collecting and trucking salmon around the dams on the routes up and down river.
Rep. Joel Kretz, R-Wauconda, said reintroducing the fish could lead to new fights over the endangered species act, and the protections for those fish could cause problems for utilities, businesses and residents that stretch of the Columbia. Almost all of that is in his legislative district, and the prime sponsor of the legislation, Rep. Derek Stanford, D-Bothell, never gave him a chance to discuss those concerns before drafting it.
"I'm offended not to be included. Those questions have got to be answered," Kretz said.
Dave Browneagle, another member of the Spokane Tribe, said he understood how Kretz could be offended at not being consulted about an issue key to his district. "My grandmother and my grandfather, my great grandfather and my great grandmother on the Spokane side were offended when they weren't approached about damming the salmon."
Restoring the salmon is important for future generations, Browneagle said. "It's something we can do together."
Bruce Swisher of the Sierra Club said the Endangered Species Act probably wouldn't come into play because current plans call for the experiment to use summer chinook and Okanogan sockeye, two species that aren't endangered. House Agriculture and Natural Resources Chairman Brian Blake, D-Aberdeen, said there are exceptions to the law for experimental uses.
Kretz, who is the second ranking Republican in the House, said he'd support the effort if there was something solid in writing that guaranteed the Endangered Species Act wouldn't create a problem: "If we can get that up front, we're going to have a lot of fun getting fish up there behind the dam."
Blake said later the legislation, which doesn't carry the force of law, would likely not get a vote in the committee before Friday's deadline. But the resolution and Tuesday's hearing should prompt discussions between all parties with an interest in restoring salmon in the river. The renegotiated treaty is years away from being final, he said.
"We're going to let this one cook and come back next January after folks have started to talk," Blake said.
---
---