Fri., June 24, 2016
Dam protests outside Obama's Seattle event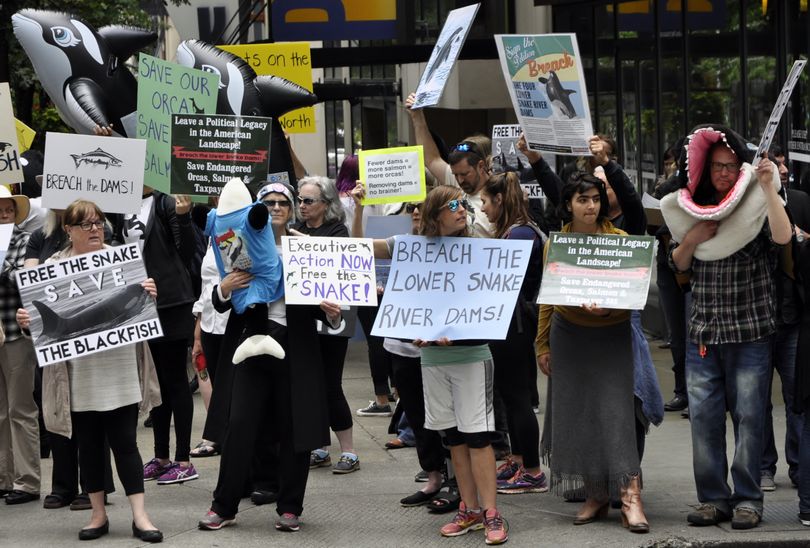 SEATTLE -- Environmental activists mixed Eastern and Western Washington concerns at a protest outside the site of President Obama's speech Friday.
They called for the federal government to remove or "breach" the dams on the lower Snake River, not just to save the salmon but the orcas.
To a salmon, that may sound a bit like being spared the frying pan for the fire, because the main reason to save them for the orcas is so the orcas have plenty to eat. But that was the way of things for eons, so there's a certain symmetry to it.
Dozens gathered on a corner at Pike and 7th, some carrying signs, others carrying large inflatable orcas. Didn't seem to be anyone who was waving around a coho purchased at the Pike Place Market, although that's the most common habitat for salmon in downtown Seattle.
Diagnonally across the street in front of the entrance to the Washington State Convention Center was another protest. A group of Bernie Sanders supporters were calling for changes in Democratic Party rules. They had signs like "Bernie or Bust" and "Hillary for Prison" -- the latter not likely to win them many friends with the crowd that paid $250 for a ticket to hear two Clinon supporters, Obama and Gov. Jay Inslee, speak at the dinner.
---
---