Former mayor Dennis Hession leaves law firm, continues work on City Hall investigation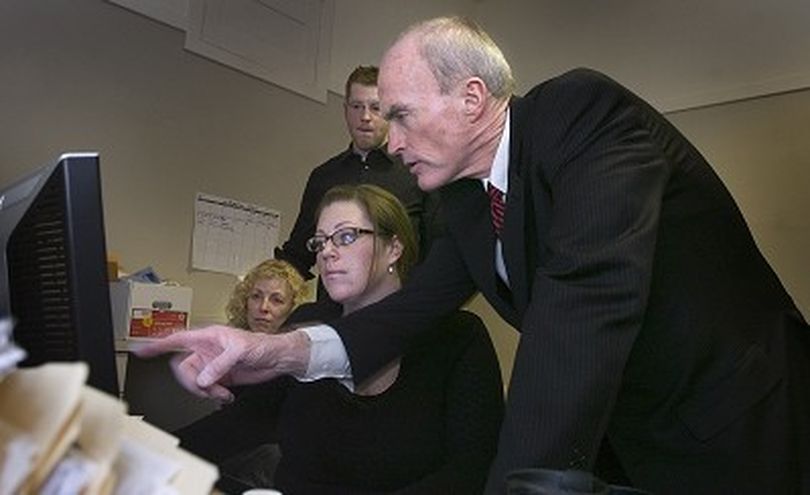 Former Spokane Mayor Dennis Hession has resigned from the law firm Kutak Rock, but will continue his work on the investigation examining the controversy surrounding the September firing of former police Chief Frank Straub.
Hession said he was "moving on" from the law firm, but didn't provide many more details.
"I'm moving on," Hession said. "I am still going to continue to represent the city."
Hession said he was still examining and redacting documents and emails requested by Kris Cappel of the Seabold Group, who is conducting the investigation.
"We have systematically released a number of documents to Seabold as we get them done. We're not waiting till the end," Hession said. "We're still responding to other requests from Seabold and trying to get her the documents as fast as we can."
Hession said no one has asked him to replace City Attorney Nancy Isserlis, who announced her resignation earlier this week.
"Nobody's talked to me about that," Hession said. "I have a job doing law work for my clients. ... I feel very honored to be doing the city attorney work that I'm doing now. I do not have aspirations to be city attorney. But I do like being back in City Hall."
The city of Spokane hired the law firm of Kutak Rock in March to act as the city attorney's office in the lawsuit brought against the city by Straub in relation to his forced resignation. Hession's work quickly expanded to assisting in Cappel's investigation.
At the time, Brian Coddington, the mayor's spokesman, said the move was done to avoid conflicts of interest, due to Isserlis being named in Straub's suit.
Michael McMahon, a private attorney, will continue to represent the city in Straub's claim, but usually the city attorney's office provides administrative oversight, management and advice to outside firms. Instead, Kutak Rock will act in this role. Hession, an attorney, was the city's primary contact at the firm.
"The firm, for all intents and purposes, is acting as the city attorney as it relates narrowly to the functions of the office that may pertain to the city and lawsuit," Coddington said. "We want to avoid any potential conflicts of interest."
UPDATE:
In response to some questions, Coddington said in an email that Hession's "role has not changed. He was hired as a conflict attorney for matters related to the Straub lawsuit. There are three separate actions that may intersect that work, especially as it relates to public records requests: the lawsuit, investigation and one remaining ethics complaint."
Coddington said Hession will be retained with a new contract, the cost and length of which are being worked on.
Finally, asked if the mayor was considering Hession as next city attorney, Coddington was noncommittal.
"The mayor is considering his options in this personnel matter," Coddington wrote.
---
---