Thu., Feb. 23, 2017
Inslee orders Washington agencies not to become "mini ICE" agents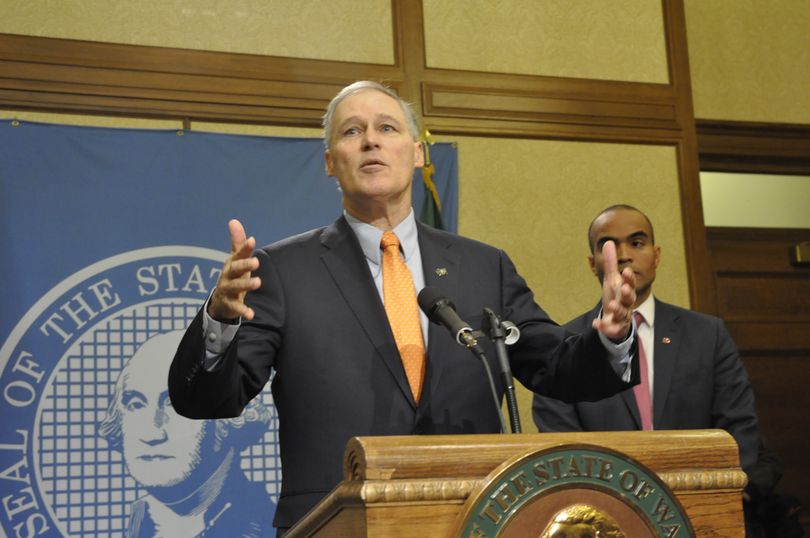 OLYMPIA – The Washington State Patrol and other state agencies will not help enforce federal immigration laws by routinely checking a person's residency status, Gov. Jay Inslee said Thursday.
As part of an ongoing series of challenges to President Donald Trump and his administration, Inslee signed an executive order that bars state officials from asking for documents solely for determining whether a person is complying with civil immigration laws. It also bars spending state money to target or arrest people for possible violation of those laws.
The executive order is not a declaration that Washington is a "sanctuary state," and while the Legislature could pass such a bill "I'm not sure I see the necessity. . . as long as the executive order is carried out," he said.
State troopers and local law enforcement officials and other officials will not become arms of the U.S. Immigration and Customs Enforcement agency, Inslee said in announcing the order: "We respect their role, but those are their roles, not ours."
If the federal government tries to cut federal money as a response to his executive order, the state would challenge it.
"If they think they're going to jerk the state's Medicaid money because we're not going to be mini ICE agents, they're wrong," he said. "The president is bound by the law. He chafes under that, but it is a fact."
The order also covers all agencies as well as public universities.
It comes in the wake of a controversy in Western Washington involving the arrest of an undocumented driver after a state trooper investigated an auto accident on Interstate 5. The driver was a convicted felon, ICE was notified and he was detained for deportation.
A State Patrol review of the case prompted criticism from Republican Sen. Steve O'Ban and a letter to Inslee.
"I agree with President Obama, who said if you're a criminal, you should be deported," O'Ban said earlier this week at a Republican press conference.
Inslee said Thursday, however, that O'Ban had some of the facts of the case wrong, because although the driver had been convicted of a felony in another state and served the sentence, there was no warrant out for him by ICE. The patrol review was routine to see if the trooper followed standard procedures, he added.
"If there's a federal criminal warrant, the state patrol will honor it," he said. By itself, a prior conviction would not be enough for a trooper to detain a person and notify federal authorities.
O'Ban said later that while he did have some information in his initial letter, which he blamed on inaccurate news accounts, and sent a second letter that clarified that his concern was whether law enforcement was getting support needed to do their jobs.
"Law enforcement needs to be clear to do their job and keep the public, including immigrant communities, safe," he said.
The governor said routine notification of immigration agents by state and local law enforcement would further stretch already scarce budgets. He added that it also could make hamper criminal investigations or increase danger to local police.
"That makes our communities less safe," Inslee said.
The governor was asked if the order could result in some instances where not reporting an undocumented immigrant to federal authorities would result in that person staying in the state and commiting crimes. Last year an undocumented immigrant who entered the country illegally murdered the mother of their child in a brutal slaying along Interstate 90.
Manuel Argomaniz Camargo had been stopped three years earlier for driving erratically near Ephrata by a state trooper. He spoke almost no English, had no driver's license and refused to take a Breathalyzer test. He was eventually arrested, jailed and charged with driving under the influence. But there's no indication in the record that the trooper inquired about his status or contacted immigration authorities to check it, and state patrol officials said the trooper would not have been required to do that.
Released the next day, Camargo eventually was found guilty, received a suspended sentence and required to attend a drug and alcohol information course. A short time later he met Ana Montelongo Garcia, a documented immigrant who lived with her mother in Moses Lake. They had a son, moved to Chicago for a few years, but with their relationship failing he was returning her and their 3-year-old son to Moses Lake when he killed her in a drug-induced rage. Her mother, Nicolasa Garcia, later said if Camargo had been deported after this or another contact with law enforcement that revealed he wasn't legally in the country, Ana would still be alive.
Inslee said he wasn't familiar with the case, but added "all groups of people have some degree of criminal behavior." While there are tragedies involving undocumented residents, he estimated for every one of those, there are 100 cases where police officers responding to domestic violence or other calls will need to talk to victims who would be afraid to report the crime or witnesses who wouldn't talk for fear of being reported to federal immigration authorities.
---
---