Inaugural Day Live Blog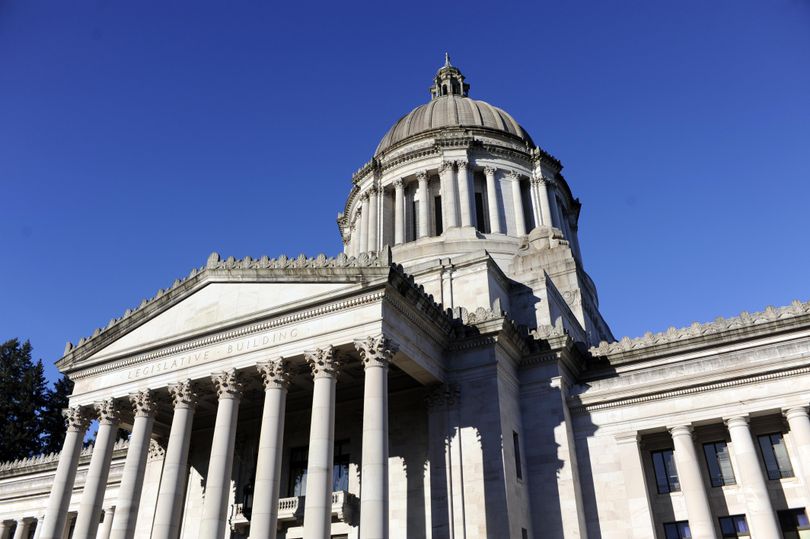 The latest from the special joint session:
12:46
As ceremony wraps up, Judy Collins sings "America the Beautiful",G including the second verse that includes "God mend thy every flaw" and adds "...with brother and sisterhood" to the chorus of the third.
Inslee's inaugural speech.
12;42
We must make progress for all of our children...I'm looking forward to working with all of you...My plan is not the only way. I want to hear your plan. But it is important to act this year.
The Legislature has some heavy lifting to do... If it were easy, somebody else would have done it. It won't get any easier next year or the year after that.
It's going to feel great to get this done. The people are ready for us to solve this.
We are setting a vision of opportunity for generations to come.
No matter what happens in that Washington, here in this Washington we will not forget who we are. We will not turn our back on the progress we have made (A standing ovation from Democrats, Republicans remain quiet in their seats.)
Washiington will remain a place where no one can be discriminated against becaus of the color of their skin.
Washington will remain a place where women have acces to the full range of health care and family planning services they need... (another standing O on the Dem side, Republicans stay quiet.)
We will fight to keep fighting to protect the 750,000 Washingtonians who finally have health care (Standing O from Dems, silence from GOP)
Let's go get this job done (standing ovation from both sides.
D12:40
I've heard loud and clear we cannot finance our schools by slashing the services on which students and their families depend.
He's proposing a change to the property tax system, which would lower taxes for three-fourths of property owners and no increase for the rest; capital gains tax and carbon tax.
"I just don't think raising property or sales taxes is the best approach to this system."
12:35
We will not arrive at this education summit by chance. This is something we must make happen...For us, this is the moment.
Mentions a visit to Lincoln Heights Elementary in Spokane, and a mentoring program for teachers, and other visits to schools around the state.
We are going to stop telling our kids that a four-year degree is the only path to success. . .that's why I propose more funding for career connected opportunities from elementary school through high school education...It works.
12:31
Our founders chose education as the "paramount duty", not roads, not railroads, not prisons.
The journey to fully fund education has been a lot like climbing a mountain. . . Now we are almost there. ... We know what needs to get done and we know that 2017 is the year to do it.
I don't say this thinking it will be easy. I say this knowing Washingtonians can do hard things."
12:29
Bipartisan successes reflect our values. Now it is time to go even further.
There are many issues in front of us this year:
Transform our mental health system. Continue expanding access to early learning. Restructure our social services. Prevent harm rather than reacting to it. Housing for the homeless, looking at the root causes like opioid addiction. Expand financial assistance for college.
Have conversations on deadly force, family leave, gun safety, capital punishment.
None of these is more important than fully funding the K-12 education our children deserve. (Democrats give him a quick standing ovation, Republicans a bit slower to applaud and get to their feet. )
12:30
We've done some hard things together in the last four years.
Access to college for young Washingtonians, a historic transportation package, investments in early learning, give hundreds of thousands access to health care.
"We made them happen together....recognizing that compromise is necessary to our success."
12:25
Inslee thanks Braxton, Collins, wife and family, Owen. Asks for a moment of silence for Hill and House Page Supervisor Gina Bull who also died recently.
Says elected officials have a "unique opportunity to work together."
"There's nothing more essential to that future than acting to fullfill our top priority, fully funding education this year. It is a historic opportunity for our state."
12:20
Inslee sworn in for his second term. Speech to begin soon.
12:12
Cyrus Habib, incoming lieutenant governor, receives the gavel from outgoing Lt. Gov. Owen.
Attempting to bury any discord from the past campaign and aftermath, Habib says he's overwhelmed, adds it's been "a tremendous privilege" to learn from Owen, who was a deputy to three separate governors. Calls Owen "lieutenant governor emeritus."
"This will be somewhat like when someone hosts Jeopardy after Alex Trebek."
Asks for a moment of silence for the late Sen. Andy Hill, who died recently from cancer.
11:59
Outgoing state elected officials, seated in the House gallery, being introduced. New incoming officials being called forward to take the oath of office. Here's the order:
Hillary Franz, Lands Commissioner
Chris Reykdal, Superintendent of Public Instruction
Bob Ferguson, Attorney General
Pat McCarthy, Auditor
Duane Davidson, Treasurer
Kim Wyman, Secretary of State, (who breaks down a bit while taking the oath)
Cyrus Habib, Lieutenant Governor

11:52
Rev. Braxton, giving the invocation, quotes from the Battle Hymn of the Republic, St. Francis of Assisi and the Bible in urging legislators to do their work in the coming session.
11:45
State Patrol ready to bring in the colors. Judy Collins will sing the National Anthem.
Yes, that Judy Collins. And yes she still has great pipes.
11:42
Inslee being escorted in
11: 35
Owen makes introductions of family members, distinguished guests in gallery.
Former Gov. Gary Locke, King County Executive Dow Constantine, Seattle Mayor Ed Murray, other local elected officials. Tribal leaders from around the state.
Consular officials from South Korea, Canada, People's Republic of China, Japan, United Kingdom, Mexico, Russian Federation, Cyprus, France, Jamaica, Peru, Cambodia, Lithuania, Switzerland, Sweden, Norway, New Zealand, Brazil, Poland, Austria, Hungary, Taipei.
***
Outgoing Lt. Gov. Brad Owen: "We need to get this thing rolling."
Supreme Court Justices, statewide elected officials being escorted into the House chamber. Introductions are being made, although one could argue these are people who need no introduction. There is more applause than in the past years from the Republican side, which is unhappy with some rulings on public schools.
Owen makes a short joke about Justice Mary Yu, noting he's been the subject of similar jokes himself in the past.
---
---