Tue., Jan. 31, 2017
In their words: Spokane's ordinance barring hypothetical Muslim registry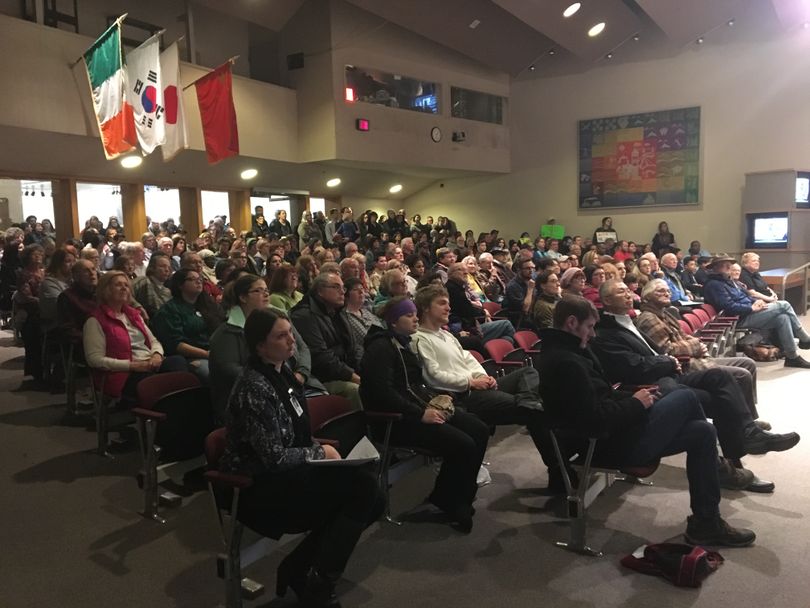 The dozens who remained in the City Council chambers past 10 p.m. Monday cheered when City Councilman Mike Fagan, often the conservative counterpoint to the progressive majority on the panel, said he'd be voting in favor of an ordinance barring city employees from participating in a registry of citizens based on faith.
Citing the ordinance's "generic" composition not naming any particular faith, Fagan said the proposed ordinance was the first he'd heard of President Donald Trump proposing a registry for people of a particular faith. City Council President Ben Stuckart, who placed the emergency ordinance on Monday night's agenda, read from a series of news articles indicating Trump's campaign position, chief among them reports from November 2015 that, in an interview with NBC News, the future president said "absolutely" the country should create a database for Muslims, though there was some confusion in the following days about what exactly the candidate had agreed to. Trump provided no clarification of his position in December, telling assembled reporters at his Florida resort, "You know my plans."
"I believe we, as Christians, are here to serve," Fagan said, before casting his yes vote. But Fagan, who's made waves in the past for political positions questioning the need for medical vaccines and whether illegal immigration was contributing to lethal drug overdoses in Spokane, cautioned supporters against dismissing Americans who supported Trump's stated goal of making the country safer through enhanced border security.
"There is reason for this administration to feel the way it does," Fagan said.
Other council members offered their thoughts before voting yes:
Candace Mumm: "This shows, really, truly, Spokane's heart ... This is absolutely a local issue."
Karen Stratton: "I'm proud of my community tonight."
Amber Waldref: "I don't know why anyone would oppose this." The councilwoman cited a statement from Trump saying the country needed to protect "our own," and continued, "I think we need to educate everyone on what 'our own' means."
The voices of opposition were drowned out by dozens of community activists, college professors, immigration attorneys and self-proclaimed refugees who urged the council to pass the measure. Monika Wachowiak, a local Republican organizer who recently returned from a trip to the inauguration and New York City where she said she was attacked for her support of the president, accused the council of adding fuel to the divisive rhetoric that has followed a contentious presidential campaign.
"I have seen, and been exposed, to real religious discrimination," said Wachowiak, who grew up Jewish and Republican on the East Coast and said she was injured on a visit to Israel by a terrorist attack fueled by religion.
Stephanie Cates, the Spokane County GOP chairwoman who accused Stuckart of political grandstanding during her statements Monday night, took to Facebook and accused those in attendance of making vulgar hand gestures during Wachowiak's comments.
I was not in the chamber during Cates or Wachowiak's statements, but I did witness people outside turning their backs during their testimony and pointing their thumbs downward.
Andrew Biviano, a former candidate for Spokane County Commissioner and current chair of the local Democratic Party, released a statement Tuesday critical of Cates' comments.
"The Spokane County Republican Party had another great opportunity to show leadership last night. They had a chance to comfort and soothe those who are understandably worried about whether President Trump will follow through on his stated plans to establish a religious registry, just as he followed through on his promise to bar millions from entering our country based on their religion and national origin," the statement read.
The local parties have been trading accusations since Rep. Cathy McMorris Rodgers, who Stuckart hopes to unseat in 2018, was booed from the stage at an appearance during the Martin Luther King Jr. Day rally earlier this month. Spokane Police are investigating graffiti left at McMorris Rodgers' campaign office over the weekend as a hate crime.
Stuckart said Monday he'd conferred with City Administrator Theresa Sanders before bringing the ordinance up for a vote. Mayor David Condon would have to sign the ordinance for it to take effect. Brian Coddington, the mayor's spokesman, said Tuesday the mayor intends to sign the ordinance and it will take effect upon his signature.
Here is the text of the ordinance passed Monday night:
Spokane City Council ordinance on religious registries by Kip Hill on Scribd
---
---