Capitol sundial headed for repairs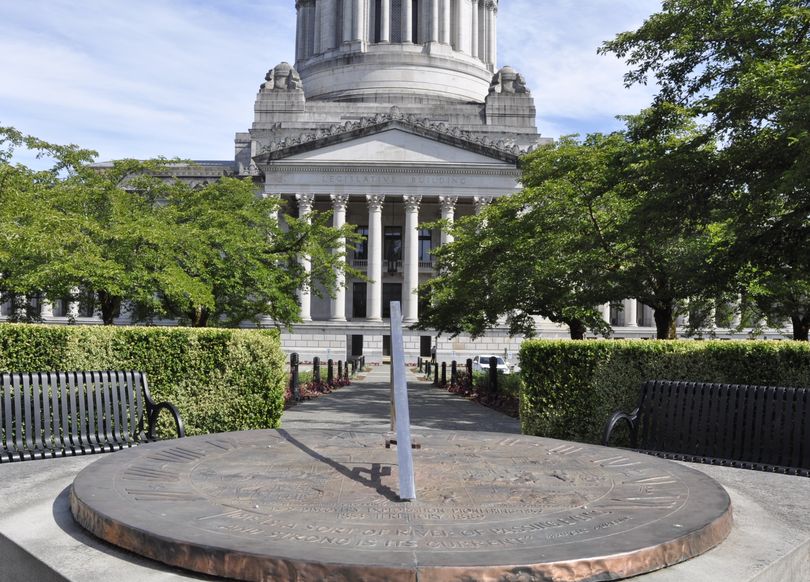 OLYMPIA -- Time has come for some restoration work on the Capitol sundial.
The sundial may not be the most recognizable feature on the Capitol Campus, but it may be the most frequented, particularly during a legislative session. It rests halfway between the Senate and House office buildings, which are the sites of most legislative hearings, with a view of the domed Legislative Building's south entrance on one side and the Joel Pritchard Library, home to many lobbyists, on the other.
It is a place where folks stop to exchange news and gossip as they move between buildings. Nearby are some ashtrays for the nicotine addicted.
The face has scenes from Washington history and a quote from Marcus Aurelius that time is a river of passing events.
But it's not something you would necessarily set your watch by. The closeness to real time, even allowing for daylight savings time, is fairly erratic.
The state Department of Enterprise Services, which is in charge of the campus, is removing the sundial to repair that copper face, work on the base to ensure the face is flat, so the time will be more accurate, and to give it a new gnomon.
What, you don't know what a gnomon is? Neither did Spin Control. It's the part of the sundial that casts the shadow. It was damaged by vandals in the 1990s.
The Legislature set aside $10,000 in the operating budget for sundial repairs, which are expected to be finished in late fall.
---
---