State coffers up $200 million over the next four years, but not much help for budget stalemate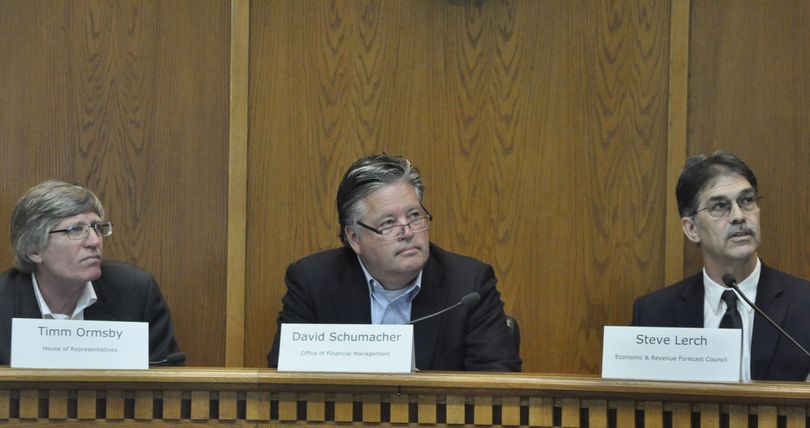 OLYMPIA -- Washington can expect an extra $87 million for its 2017-19 budget and about $200 million overall for the next four years, the state's Economic and Revenue Forecast Council was told.
State economist Steve Lerch called it "slightly better" than the last forecast in March.
Lawmakers working on the state's two-year general fund budget of at least $43 billion, which must be in place by June 30 to avoid a partial government shutdown, said the extra money doesn't make much difference.
"It doesn't hurt at all, but it doesn't help much," Rep. Timm Ormsby, D-Spokane, the chairman of the House Appropriations Committee, said.
"It's certainly not bad news," Sen. John Braun, R-Centralia, the chairman of the Senate Ways and Means Committee, said.
The Legislature will finish its second 30-day special session Wednesday and Gov. Jay Inslee is expected to call a third one to start immediately. If the Legislature doesn't reach a budget compromise that can pass both houses by June 30, the end of the current fiscal year, the state will go into a partial government shutdown.
To avoid a shutdown, Braun said Senate Republicans have a "back-up plan" which he refused to divulge.
"The MCC will not sit by and let the government shut down," he said, referring to the Republican-led Majority Coalition Caucus in the Senate.
Ormsby said House Democrats are not discussing possibilities to avoid a shutdown if a full budget compromise is not reached. "Our sole focus it to get the biennial budget done by the end of the fiscal year," he said.
Among the factors driving the slight bump in overall state revenue that Lerch listed were personal income slightly lower than anticipated in March, while the employment figures are about the same and mortgage rates are still expected to rise gradually.
"Housing is going to be a bit more expensive as we move forward," he said.
Building permits are expected go rise, despite the increase in interest rates, because of the state's growing population.
The Real Estate Excise tax is collecting about $18 million more than economists expected in March, and some other taxes, including the state sales tax, are up nearly $38 million. Marijuana taxes should bring in an extra $4 million for the biennium that will end on June 30 and an extra $5 million for the 2017-19 biennium.
"Washington's economy continues to outperform the national economy," Lerch said.
---
---